Season 1 » Blood Brothers
The Vampire Diaries Episode 20 Synopsis, Pictures & Soundtrack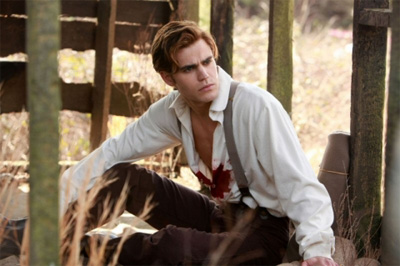 Locked up in the cell, Stefan begins to flash back to when he and Damon tried to save Catherine. The mob had dragged Catherine off and locked her in the wagon. Seeing a chance, he and Damon approached the wagon and released Catherine. During this time, both Salvatore brothers were shot down. Once again, Catherine is hauled back into the wagon and carted off to the church.
Later on in the woods, Damon and Stefan wake up to find they are still alive…well, sort of. Emily tells them that she and her brother dragged them off to safety. Not knowing why they are still alive, Emily informs them that their transformation is not complete and that they are transitioning. They will need to feed on human blood in order to complete the transformation. Emily also tells Stefan that Catherine had been using compulsion to get him to drink her blood for some time now. Stefan asks Emily about Damon and she tells him that Damon drank Catherine's blood freely.
At Mystic High, Jeremy gets a pleasant surprise when he sees Anna. Asking what she's doing there, she informs him that she enrolled in school. Asking why, she tells him that it is because she wants to be near him. Liking the idea, Jeremy bends down to give her a kiss.
Back in the cell, Damon tries to convince Stefan to drink the bottle of animal blood he brought down. Stefan says no and Damon walks away in disgust. On his way out, Damon receives a call from Alaric. Alaric informs Damon that he has an address to where he thinks Isabel is living. The two agree to go there together.
Elena calls Damon to ask him if there is any particular type of animal blood that Stefan likes. Replying "puppy" blood, Damon tells her that he needs to leave for an errand with Alaric. Damon tells her that maybe she shouldn't go to the cell and visit Stefan since Stefan is acting strange. Of course Elena has no intention of staying away. On her way out the door, Elena bumps into her Uncle John. He comes right and asks her "what would your other think of you dating a Vampire"? Elena replies "which mother" and walks out.
Stefan still refuses to drink the blood and soon begins to flask back again to the past. He recalls the conversation he had with Damon about turning into a Vampire. Damon told him that he had no intention of drinking human blood and becoming a Vampire. Now that Catherine is dead, Damon had no desire to live.
Once again, Elena shows up at the dark cell and tries to convince Stefan to feed. He tells her to leave and that he can't be trusted. Ignoring him, Elena opens the cell door and enters. Stefan tells her that doesn't want to survive and that he wants to end it.
Down at the Mystic Grill, Pearl meets up with John to discuss the device that he's been looking for. John tells Pearl that if she hands over the special device, he will let her and Anna live in peace in the community. Using his supposed Gilbert charm, he tells Pearl that his long dead relative John Gilbert had written in his journals that he had loved her. That he regretted what had happened and that she was the only woman he ever loved. Seeing that she is believing it, John cracks up laughing and then tells her the truth. He tells her that actually, the only thing his relative regretted was that he wasn't the one that killed her himself. Disgusted, Pearl stands up and tells John that she gave Damon the device and good luck getting it back.
Alone in his bedroom, Jeremy and Anna discuss everything she knows about the journals and what his Uncle John is looking for. Soon, the conversation takes a different turn and the two begin to kiss. One thing leads to another and they both begin to undress each other. Before you know it, they are on the bed, half dressed and kissing passionately.
Damon and Alaric cautiously enter the house they believe Isabel is staying. Once inside, Alaric is attacked by a young Vampire. Managing to get him off of him, they find out that Isabel does not live there and that John Gilbert has been helping the Vampires who were released from the tomb. Alaric and Damon tell him that they are old friends of John Gilbert to gain his trust. Of course, things get bad when Henry's phone rings and they see it is John. Realizing that they have been lying to him, Henry goes on the attack. Of course, he finds out soon enough that he is really no match and soon dies.
Elena Back at the cell, Elena approaches Stefan and Stefan tells her that she should be afraid of him. Not listening to him, Elena stands her ground. Stefan rushes toward her and tries to frighten her but Elena doesn't budge. Seeing what he was doing, Stefan backs down and apologizes to her.
Stefan begins to tell Elena what had happened so long ago in 1864. Stefan had approached his father's house for help. Once inside, he realized that his father was the one that had shot him and Damon the night before. His father grabs a piece of wood and breaks it off to make a stake and readies himself to kill his son. A struggle ensues and a minute later, it is Stefan's father and not him that has a stake plunged into his chest.
Stefan rushes forward to help his father but his father wants nothing to do with him. Sensing the blood, Stefan's fangs begin to come out. Not being able to control himself, Stefan licks the blood from his fingers while his father recoils in disgust.
After disposing of Henry, the young Vampire, Damon and Alaric sit down and talk about their long pursuits of the women they love. It's been two years since Alaric first started looking for Isabel and it has been 146 years for Damon. Damon tells him that maybe when it's been 200 years, he might consider quitting. Alaric shocks him by saying that he thinks he's done looking. He is tired and frustrated from trying to figure out where she is or why she left.
Anna arrives home to see her mother packing. Pearl informs Anna that they can no longer stay in Mystic Falls. It is too dangerous and she doesn't trust John Gilbert. Anna refuses to leave and decides against her mother's wishes to stay.
Damon arrives home to see Elena waiting for him. She tells him that Stefan has been carrying a lot of guilt around for what happened to Catherine. Telling him also that he's not so innocent since he hasn't really helped Stefan out concerning the issue.
Standing up, Damon tells that maybe Stefan didn't tell her the complete storey. Deciding to fill Elena in, Damon comes back and begins to tell her everything. Damon tells her that it was Stefan who encouraged him to become a Vampire. Way back to that day, Stefan has brought back a young lady for Damon to feed off of and complete the transformation. Damon refused but Stefan kept insisting. Knowing that the sight and smell of blood would be too hard to resist, Stefan bit the lady and pushed Damon towards her. Soon, Damon can't resist and he too sinks his fangs into her.
Now having a better understanding of why Stefan feels all this guilt, Elena goes downstairs to the cell. Once there, she is scared to see Stefan is no longer in the cell and his special ring is still sitting on the bed.
Later that evening, Anna sneaks into Jeremy's room to tell him goodbye. He is still asleep but he wakes up partially for a moment to say a sleepy greeting. Whispering softly, Anna says her farewell and before you know it, she disappears outside his window again.
Stefan takes off and arrives at the very spot in the woods where he and Damon first found out that they were to become Vampires. Flashing back, Stefan asks him how he feels after feeding on the young lady and Damon tells him he's right, that the world seems completely different and better now. Soon Stefan realizes that Damon is not happy about it at all. Approaching Stefan, Damon tells him that now he has a lifetime to inflect misery on Stefan for what he did to him.
Elena arrives to see Stefan standing alone and she tells him that she understands now since Damon told her the whole storey. Elena pleads with him to not end his life. Holding the ring out, Elena tells him to keep fighting. Walking away, Elena prays that he will choose to live. Her heart skips a beat when she hears him call her back. Approaching him, Elena is relieved to see that he has put the ring back on his finger.
At the farmhouse, Pearl and Harper are frantically packing to leave. Pearl tells Harper that he doesn't have to leave too but he says he wants to. Opening up the front door, Pearl is shocked when she is pierced by a wooden arrow. Seeing her fall, Harper grabs her back in and sees that he is too late. Pearl is already dead.
Elena and Stefan enter the Salvatore home to see Damon drinking alone by the fire. Elena goes up to bed while Stefan stays with Damon for a minute. Stefan tries to thank Damon but in his usual Damon way, he tells him no thanks is necessary. Damon expresses to Stefan that the things he does is on him and not Stefan. Damon tells him it is his guilt to carry. Damon also tells Stefan that he doesn't hate him because he forced him to turn into a Vampire but because Catherine turned him too. It was supposed to be him alone that she turned.
Anna arrives at the farmhouse to leave with her mother and is in shock when she sees Pearl and Harper dead. Crying out, she pleads for her mother to wake up. Outside, John Gilbert calls Sheriff Forbes and tells her that he has information on the Vampires. He is also holding the bow that sent the stake into Pearl and Harper's chests.
Sitting alone at the bar, Alaric decides that many drinks might dull the feeling of helplessness he's feeling regarding his missing wife Isabel. He soon gets a shock when he hears Isabel's voice telling him hello. Turning around, he in fact does see Isabel standing there.
Blood Brothers Pictures