Season 3 Episode 1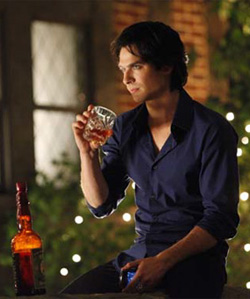 Outside of a home in a rural area, Klaus plays a stranded motorist who lives there. Not falling for his act, she walks away to get her cell phone for him to use. Not liking that idea since he wants inside, he compels her to allow him in. Once inside, he sees another woman. Asking about a man named Ray that lives there, the woman tells him she has no idea where he is. Sensing danger, she turns to flee but soon Stefan is at the other door to greet her.
Forcing her to allow Stefan in, Klaus also finally gets her to tell him that Ray is at some bar on the state line. Looking at Stefan, Klaus tells him he knows what to do. Stefan grabs the first woman and proceeds to feed off of her before moving onto the next. Killing them both and beheading them when he's done.
Elena wakes up to a beautiful sunny day. Finally it's her 18thbirthday but she doesn't feel like celebrating because she is worried about Stefan. Walking into Jeremy's room, she opens the curtains and tells him he's late for work at the Mystic Grill.
Damon enjoys a leisure bath when he runs out of champagne. Looking up at Andie, he asks her to get him another bottle. Telling him she was not his slave, Damon steps out of the tub to retrieve the new bottle himself.
Elena receives a phone call from Caroline letting her know that her mother had another tip about a Vampire attack. Walking into the Salvatore home to share this new information with Damon, Elena gets a surprise when she is greeted by a naked Damon.
Throwing a towel at him, she tells him the latest. After Elena leaves, Damon heads to his secret closet where it is full of Klaus and Stefan sightings. Andie comes up behind him and he hands her the tip so she could try and get him an address.
After a quick chat with Bonnie, Jason turns around in the back room and sees Vicky standing there. Shocked, he looks again and this time he sees Anna. Matt walks in and asks him to switch tables with him. Asking why, Matt explains that he did not want to wait on Caroline and Tyler. Understanding, Jeremy heads on out.
Approaching Ray at the bar, Klaus tells him that he needs his cooperation. Realizing that Klaus was a Vampire, Ray tries to make for a hasty departure but soon finds himself facing Stefan. Klaus wants the location of where his pack was.
Looking around the bar for help, Klaus informs Ray that Stefan had compelled the whole bar to not care about what was happening with them. Taking out a bag of Wolfs bane, Stefan tells Ray that they were going to play a little game of darts.
Alaric and Damon arrive at the home of Stefan's latest victim. Once Damon enters the home, he knows right away that it was the work of Stefan. Seeing the decapitated head placed back on the shoulders of the victim convinces him it was Stefan. Before setting the house on fire, Damon sees a hidden handle in the floor. Opening it up, they see that it was a secret room for when Ray turned into a Werewolf. They proceed to set the place on fire.
Back at the Salvatore home, Elena, Caroline and Tyler finish setting up for the party. Elena receives a call from Bonnie and leaves the room. Tyler also decides to leave and tells Caroline he needs to get ready and pick up his date. This of course upsets Caroline. Tyler explains that he has been very horny and she agrees that she was too. They both also agree that it was a supernatural thing.
While torturing Ray, Stefan overhears a woman walk up to Klaus and inform him that Damon was still close on their trail. Walking over to him, Stefan tells Klaus to let him handle his brother. Agreeing, Klaus sends him off to do just that.
Elena arrives to her party with Damon as her escort. She is not too please when she sees her small party that she requested had turned into a very large one. Before she has a chance to complain, Caroline grabs her arm and directs her over to the bar area.
Matt finds Jeremy sitting alone on a couch getting ready to light up a joint. Joining him, Matt asks him what was bringing on his downward spiral. Finally breaking his silence, Jeremy opens up and tells him that ever since he died and came back, he has been seeing things.
Trying her best to finish up a call so she can head to the party, Andie turns around to leave and finds one of the cameras light blinding her. Asking them to stop messing around, they turn the lights off. Moving, they once again shine brightly into her eyes. Getting nervous now, Andie tries to make a run for the exit. She is soon confronted by Stefan. Feeling relieved, she tells him that everyone has been looking for him. Andie soon senses too late that Stefan didn't appear to be the nice man she knew. Looking into his eyes, she becomes very frightened when she sees his eyes turn red.
At the party, Caroline is mad when she sees Tyler dancing with Sophie. Escaping to Damon's room for some private time, Caroline is interrupted by Elena who was looking for Damon. Seeing Caroline, she tells her that she wanted to go home. Caroline doesn't want her to go because she hadn't blown the candles out on her cake yet. Turning around to leave, Elena's eye catches a glimpse of Damon's secret closet. Her and Caroline both approach the closet and they see all of the papers keeping track of Stefan. Elena becomes quite upset when she realizes that Damon was doing all of this behind her back.
Damon shows up at the station but doesn't see Andie. Walking in farther, he stumbles upon her purse on the floor. Looking back up, he sees Stefan. Stefan tells Damon to stop looking for him and to just let him go. Proving his point, Stefan yells for Andie. Looking up, Damon sees Andie standing on a ledge. She yells down to him that Stefan told her not to move. Damon tells her to stay still but suddenly without any care, Stefan yells for her to move. She does and plunges downward. Stefan pushes Damon out of the way so that he could not save her.
Tyler confronts Caroline about compelling his date to leave. Her reply to him is that she really doesn't care who he dates. Knowing that wasn't the truth, he tells her that all she has to do is say the word and he would be with her. Reaching out to him, Caroline begins to hungrily kiss him. Parting for a minute, Tyler tells her they need to leave and they both head out quick.
Damon enters his bedroom distraught over what had just happened to Andie and finds Elena waiting for him. Holding some of the papers, she asks him how could he keep all of this from her. Not taking anymore, he screams at her that it wasn't Klaus killing all those people but Stefan. Looking at her straight in the eyes, he tells her that Stefan was gone and was never coming back.
Back at the bar, Ray lays suffering on the pool table. Cutting open his wrist, Klaus forces Ray to drink his blood. Next his slices open his throat, killing him. Next time he awakes, he will be half Werewolf and half Vampire. The first in Klaus's army. Stefan arrives and tells Klaus that Damon was taken care of. Stepping outside for some air, Stefan dials Elena's number. Hearing nothing but silence, Elena knows it's Stefan. He listens to her as she tells him not to give up and that she loves him.
Leaving Tyler's bed, Caroline tip toes out and walks down the stairs. Once there, she is greeted by Mrs. Lockwood. Feeling a bit uncomfortable, Caroline reaches for her purse to leave and finds her hands react as if burnt. Seeing the effect the Verbena had on Caroline, Mrs. Lockwood pulls out a gun and shoots darts full of Verbena into Caroline's back.