Season 2 » The Last Dance
The Vampire Diaries Season 2 Episode 18 Synopsis, Pictures & Soundtrack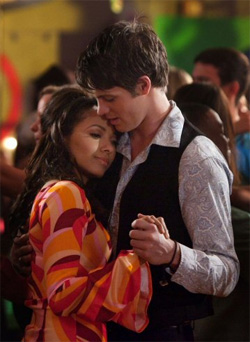 Klaus assesses Alaric's clothing and is not too impressed. Katherine tells him, what does he expect from a history teacher. Finally deciding on a pair of dark slacks and dark shirt. Sitting Katherine down, Klaus gets Katherine to tell him everything she knows. Not feeling that she was completely telling him everything, Klaus compels her to tell him everything. Soon she divulges that Bonnie was a witch and had the power of 100 witches. As punishment for not complying, before he leaves, Klaus compels her to stab her leg ever hour until he returns.
Bonnie watches on as Elena finishes up signing all the papers making the Salvatore home legally hers. The lawyer leaves and Stefan and Damon proceed to enter but soon realize they have yet to be invited. Elena has no problem welcoming Stefan but Damon, she makes him promise to play by her rules. He grudgingly agrees and steps on in. Stefan, Bonnie and Elena head off to school.
Matt stops by Sheriff Forbes to tell her that he's not sure he can pretend that Caroline was not a Vampire. She begs him to hang in there until she figures out what to do. Telling him to take Caroline to the dance that evening and just to act normal.
Elena, Bonnie and Stefan show up for Alaric's history class , not knowing that it in fact was Klaus. They discussion soon turns to the 60's since they were having a "Decades Dance" that evening. After school, students were everywhere preparing for the dance.
Jeremy is still concerned with Bonnie and the risks she is taking by confronting Klaus. The thought that she could die was always on his mind. Suddenly, a friend appears and tells Bonnie that a really cute boy wanted to make sure that Elena was coming to the dance and to save the last dance for him. Bonnie asks who the boy is and she tells her his name was Klaus.
At the Salvatore's, they all discuss what to do about the dance and what to do about running into Klaus. Since they have no idea what he looks like, it is making it so much harder. Using Damon as he victim, Bonnie proves to them that she can go up against Klaus. That she has powers that will destroy him. The dance was in full swing when they all arrive Klaus shows up and soon spots Elena. Jeremy and Bonnie are outside and once again, Jeremy is trying to talk Bonnie out of battling Klaus. He is so afraid that with his past history of girlfriends dying on him, Bonnie would too.
Seeing Caroline and Matt enter the dance, Stefan heads over to warn Caroline while Damon takes over dancing with Elena. Feeling frustrated with the whole plan, Jeremy takes off and walks down a dark hall. Soon, he is set upon by 3 boys. They begin to attack him and before long, Stefan and Damon appear to help. Damon realizes that this was a distraction and they head out to find Elena and Bonnie.
Outside, Klaus finds Elena and Bonnie and tells them that Klaus has Jeremy and they need to follow him. He brings them to a classroom and they soon realize that Klaus is in Alaric's body. Klaus and Bonnie begin to fight. Using her powers, Bonnie was able to throw him around pretty good. She soon realizes that he has some sort of protection spell on him and it is proving harder to kill hm. Elena and Bonnie escape and run off to find Stefan.
After confronting Damon, Bonnie runs off and finds Klaus again. Using all her powers, she tries hard to destroy him. Elena and Stefan arrive and watch on in horror as they see Bonnie weaken and her nose bleeding. A moment later, Klaus uses her moment of weakness and drops her. Elena and Stefan rush in and discover that Bonnie was not breathing. Looking all around, they see that Klaus has disappeared.
Feeling no pulse, Elena begs Stefan to give Bonnie some blood but he tells her it is too late. Damon shows up and Elena slaps him hard for knowing the risks for Bonnie and not stopping her. Damon tells her that she needs to listen to him and to listen carefully.
Damon explains to them that Klaus needed to believe that Bonnie was dead. Bonnie put a spell on herself that would make her appear dead. This way, Klaus thinks they no longer have a powerful witch helping them.
Damon takes Bonnies body and places it in the trunk of his car. Jeremy sees him and he tells Jeremy that they need to have a talk. Back at the old deserted mansion, Jeremy works to light candles and turning around, he sees Bonnie laying motionless on the floor. Kneeling by her, he sees her eyelashes flutter open and is relieved. Bonnie looks up and Jeremy pulls her into his arms. Pulling out his WiFi and lap top, Jeremy surprises Bonnie when he sets her up to chat with Elena.
Later, Elena apologizes to Damon for slapping him. He makes it clear to her, that whatever it takes, he will always choose to save her life above all others. Elena walks away and sneaks off to the cellar. Walking over to Elijah's body, Elena bends down and pulls out the dagger.