Season 1 » Unpleasantville
The Vampire Diaries Episode Twelve Synopsis, Pictures & Soundtrack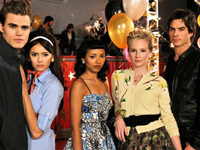 Not knowing who the mysterious Vampire is that Elena hit with her car, Stefan has her and her friends wear jewelry that have verbena in it. At home, Jeremy answers the door and sees it's the pizza guy. Asking him to come in to get paid, Jeremy unknowingly allowed the Vampire to enter their home. Now he will be able to get to Elena without any problems.
At school, Jeremy is surprised to see that he received a A on his essay. Alaric is curious to see if Jeremy actually believed in all the Vampire folklore. Jeremy tells him that it's all not true and that he doesn't take anything he read about the myths seriously. Curious still, Alaric does ask Jeremy if he could read the journal that his grandfather kept. Jeremy gladly hands it over.
Caroline is surprised when Elena gives her a friendship necklace. Of course, Caroline doesn't realize that the necklace contains verbena. Elena does bring up the subject of her and Matt. Caroline is a little hesitant to discuss it. Especially considering the fact that Matt and Elena might still have feelings for each other. Elena soon puts Caroline at ease and tells her to go for it because she is quite happy with Stefan.
Meanwhile, Matt is down at the Mystic Grill filling out an application for employment. Now that Vicky is gone, he needs to make some money for the family. Looking up, he sees that he knows the bartender. His name is Ben and he too was a football star at one time. Ben also catches the eye of Bonnie while she and Elena are there for a quick bite to eat. Elena leaves to go buy an outfit to wear to that evenings "Decade Dance". Bonnie turns to leave also but runs into Damon. After a few words, Ben steps in to help get rid of Damon. This of course puts a big smile on Bonnie's face.
In the dark parking lot of the store, Elena receives a phone call from the mysterious Vampire again. Turning around, Elena sees his dark figure but manages to get into her car and drive away. Arriving at Stefan's, Elena shares with him what had happened earlier. Stefan decides to give Elena her grandfather's pocket watch back. He explains to her that it is a special watch and that it will tell her if there is a Vampire near.
Caroline and Matt are working together painting signs for the upcoming "50's" dance. Caroline tries to tease him and find out exactly what kind of relationship they were having. Matt opens up to her and tells Caroline that he's not sure if he's over Elena yet. He is also afraid to take the next step with Caroline and risk ruining their friendship. Not knowing what else to say, Matt leaves to go to work busing tables at the Mystic Grill.
Playing pool at the Mystic Grill, Jeremy gets another surprise visit from Anna and once again she is pushing to hang out with him. He turns her down and lets her know that he is in charge of cups and drinks at the dance that evening. Jeremy had told her before that he is not ready for a relationship yet but Anna doesn't seem to listen.
Aunt Jenna lets Elena know that her car had to be totaled and that she can borrow her car until another can be arranged. Seeing that Jenna is dressed up in the 50's style, Elena finds out that her aunt Jenna is helping Alaric chaperon the dance. Aunt Jenna also explains to Elena all she knows about her adoption. Elena's birth mother had showed up at her father's doctor office. She was 16 and pregnant. Her father helped her out and took her in. He also delivered her baby. A few days after her birth, her mother disappeared. She was heard from again. Jenna also tells her that her mother's name was Isabel.
Stefan stumbled upon Damon tearing through the study in their house. He knows that Damon is looking for their father's journal and Emily's spell book. Stefan decides to try and help Damon find it. Damon is suspicious at first but Stefan tells him that he will help him on one condition. He only free Katherine and that he is to let the other Vampires stay in the tomb. Stefan also wants Damon to leave with Katherine and never to return again. Reluctantly, Damon agrees.
While blow drying her hair and getting ready for the dance, Elena doesn't realize that the pocket watch dial is moving. Finally, Elena hears it and glances at the watch and sees the dial moving all around. Panicking, Elena calls Stefan's phone. Damon answers it and tells her that Stefan is on her way. Feeling relieved, Elena believes that it was Stefan the watch was pointing too. Elena is caught off guard when the Vampire who had been hovering above her jumps down to attack. Luckily, Stefan arrives just in time. The Vampire flees. Now knowing that the Vampire had been invited in, Stefan and Damon know that they have to keep a close eye on her. They both decide to escort Elena to the dance.
Alaric and Jenna seem to be hitting it off at the dance. Jenna makes him feel at ease and he begins to discuss what happened with his wife. Jenna reassures him that she is ok to talk to him about it. Alaric tells Jenna that he hopes it won't be long before he finds out what happened to his wife and to confront his wife's murderer.
Standing by while at his punch duty, Jeremy sees Anna approaching him again. She teases him that she is stalking him. Anna decides to stay close to Jeremy and help him stock cups. Anna tries again to obtain the journal. She becomes visibly upset when he tells her that he leant the journal to his teacher. Jeremy notices that Anna's eyes start to move strangely. Before he has a chance to question her about it, Anna runs off.
Seeing his chance, Alaric walks up to Damon at the dance. Trying to be casual about it, Alaric begins to ask Damon questions. Seeing that Damon is starting to get irritated, Alaric decides to stop questioning him and backs off. Not wanting to make Damon suspicious of him, Alaric walks away casually.
Bored with the dance, Bonnie and Caroline decide to go to the Mystic Grill. Proving to Caroline to go after what you want, Bonnie heads over to Ben to strike up a conversation. The two seem to hit it off and decide on going on a date. Seeing this, Caroline decides to confront Matt. Caroline asks him why he has been avoiding her. Telling her that he hasn't been but that maybe it's for the best that they don't get any more involved. He feels that if they do take it to the next level, they will end up hating each other and breaking up. Caroline is upset because before they even have a chance to at least try, he already has them failing. With a final goodbye, Caroline walks out.
Walking down a dark hallway, Anna sees a dark figure up ahead. Within a second, she is in front of the Vampire. They are together and his name is Noah. Anna warns him to stick with plan of obtaining the journal and to leave Elena alone. Noah tells her that he wants to have some fun and that Elena looks just like Katherine. Anna leaves knowing that with the Salvatore brothers watching Elena, that Noah will only get into trouble.
After dancing to many songs with Stefan, Elena takes a break. She receives a phone call and it is Noah. Looking across the dance floor, she sees him close to Jeremy. Noah threatens to hurt Jeremy unless Elena leaves with him. Racing out with Noah after her, Elena flees through the dark hallways. Close on her heels, Noah finally grabs her. Elena barely escapes by putting sharp pencils into him. Noah throws her against the wall. Elena gets up and breaks a mop in half to use as a stake. He gets it away but suddenly Stefan is there to help. Stefan plunges the stake slowly into Noah's chest. He won't kill him until he knows why he is here. Noah tells him that he is there to find the journals and open the tomb. He mentions Katherine and before Damon could ask how he knows Katherine, Stefan plunges the stake into his heart.
Noticing someone watching outside the door, Damon goes to see who it is. He sees Alaric walking away. Within seconds, Damon is in front of Alaric. Damon begins to compel him to see what he was doing there and what he wanted. After getting the answers he needed, Damon let Alaric go. Alaric breathes a sigh of relief when Damon is gone. Thank God for the verbena he had in his hand or Damon would have had the whole truth.
Alaric brings Jenna home and walks her to her front door. He tries to apologize for talking to her about his wife all night. Jenna says it's no problem and the two decide to have a real date that weekend. Of course a moment later, Jenna is stunned when Alaric tells her that his wife's name was Isabel.
Caroline is walking home from the Mystic Grill when she hears Matt yelling for her. Not wanting to listen, Caroline walks on. Finally, Matt stops his truck and gets out. With determined steps, he walks over to her and takes her into his arms and kisses her. Apparently, he has decided to give their relationship a chance at being something real.
Unpleasantville Pictures