The Vampire Diaries Season 2 Episode 1 Synopsis, Pictures & Soundtrack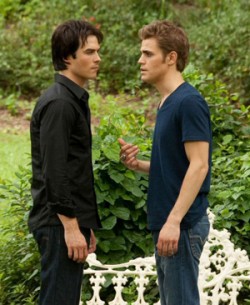 Elena arrives home to find John on the floor bleeding. Barely able to talk, he tells her there is someone still in the house. Grabbing the knife, Elena goes in search of the person responsible but they have already escaped.
She does however find Jeremy lying still on his bead. Fearing the worst, she calls Stefan. They find out that he drank the vile of Anna's blood and tried to turn himself into a Vampire. Luckily, the plan didn't work and Anna's blood in fact was healing Jeremy.
Bonnie shows up at the hospital to see how Caroline is doing. Meanwhile, Damon is also there talking to Sheriff Forbes. Sheriff Forbes talks to Damon and they try to figure out why Mayor Lockwood was affected by the Vampire device when he is not one.
Seeing Bonnie and Elena discussing Caroline, Damon tells him that if he could give Caroline some of his blood, she will be fine. Elena says no way but Bonnie convinces her otherwise. Getting the go ahead, Damon goes to give Caroline some of his blood.
Later alone, Damon confronts Elena about the kiss they shared. Elena tells him that she did not kiss him. After overhearing a conversation between her and her aunt, he quickly realizes that it was not Elena he kissed but Katherine.
Stefan is watching over Jeremy when Katherine arrives posing as Elena. Stefan soon realizes that it is Katherine and tosses her aside. The two begin to fight. Hearing a sound at the door, Katherine takes this time to flee. Elena and Damon arrive and Stefan tells him that Katherine was just there. Stefan is not too happy when he finds out that Damon kissed Katherine but thought it was Elena.
At the Lockwood's, everyone gathers to pay their last respects. Mrs. Lockwood is furious over her husband's death and blames Sheriff Forbes and her deputies. She refuses to believe that the Vampire device had anything to do with his death.
Tyler is shocked to see his long lost Uncle Mason show up. Seeing the newcomer, Damon asks Sheriff Forbes about Mason. She tells him that Mason is laid back and doesn't believe in the Vampires. He also wants no part of the council. Tyler sees who he thinks is Elena arrive and tells her hello and invites her in.
At the Lockwood's, Bonnie confronts Damon and tells him that if he makes one wrong move, she will take him out. Proving her power, she uses her abilities and soon Damon is holding his head in pain. Bonnie walks away and bumps into Elena/Katherine to complain about Damon. Touching her arm, Bonnie soon realizes that it is Katherine and not Elena. Once alone, Bonnie calls Elena and verifies that Elena is not yet arrived. Turning around, Bonnie is confronted by Katherine. Using her abilities once again, Bonnie soon discovers that they don't work on Katherine. Katherine reaches for Bonnie's throat and begins to choke her. Using her powers, Bonnie has the doors to the party open. Once exposed, Katherine lets her go and walks away.
Stefan sees Katherine and tells her to leave town because he is not going to play games with her. Not caring to listen, Katherine heads outside and Stefan follows her.
Elena finally arrives and decides to talk to Damon about the kiss. She tries to tell him that she does indeed care for him but not in the romantic sense. She tells him that she is surprised that he would even think that she would kiss him back.
Jeremy finds Tyler drinking from his dad's flask and the two share a drink. Mason shows up and quickly gets Jeremy to leave. Tyler passes the flask to Mason and the two begin to drink together.
Walking by the lake outside of the Lockwood's house, Katherine tells Stefan that it bothers her that he fell in love with someone else. Stefan informs her that he never loved her and that she compelled him to feel anything.
Stefan, once again threatens Katherine into leaving and tells her that he hates her. Not liking where the conversation is going, Katherine reacts by pulling up a metal bar and plunging it into Stefan's chest.
Elena and Damon arrive to help and are relieved to see it isn't fatal. Stefan warns Damon to be careful because Katherine is going to try very hard to pit each of them against the other. Damon of course doesn't take the warning seriously.
Alone in his dad's study, Tyler let's his rage and grief get the best of him and begins to trash the place. His mother walks in to stop him but is quickly pushed aside. Mason shows up and get's the situation under control. Mason tells Tyler that he understands how he feels and that he has had to learn how to control those strong outbursts.
Drinking alone at home, Damon gets an unwanted visit by Katherine. Threatening her doesn't seem to have any effect on her and soon Katherine tries to seduce Damon. The two begin to kiss passionately. Damon puts a stop to it and wants to hear the truth about her feelings for him before they go much further. Katherine tells him that she doesn't love him. She tells him that she loves Stefan and only Stefan.
Drunk and feeling betrayed, Damon shows up at Elena's house. He tries to convince her that they had something. Once again his heart is broken when Elena tells him that it is Stefan she loves and only Stefan.
Jeremy enters Elena's room and Damon quickly goes to him. Feeling broken, Damon tells Jeremy that if he wants to be a Vampire and feel nothing, he will help him. In one second, Damon snaps Jeremy's neck and he drops to the floor. Elena rushes to Jeremy crying but is soon somewhat relieved when she sees that Jeremy had on the special ring from John.
At the hospital, Caroline wakes up to see who she thinks is Elena standing there. Katherine sets her straight and tells her who she is. She tells Caroline to give the Salvatore brothers a message "Game On" and proceeds to suffocate Caroline with the pillow.
The Return Pictures