Season 1 » Miss Mystic Falls
The Vampire Diaries Episode 19 Synopsis, Pictures & Soundtrack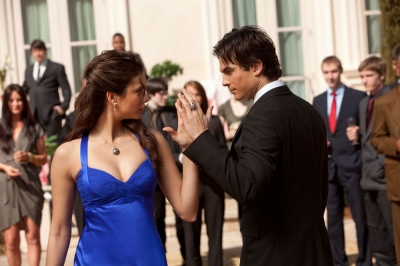 Stefan pulls in his sleek classic sports car at Mystic Falls High and draws the attention of many students. One of them being Elena. Giving him a hug, Elena notices that he is in a very good mood. She asks him if he is over drinking blood. Stefan looks her in the eye and tells her that everything is fine now. Stefan tells her he will catch up with her in a minute he has to get his books. Once Elena leaves, Stefan opens his trunk and there are many empty blood bags visible.
Down at the Founders Hall, Sheriff Forbes brings to everyone's attention that the hospital's blood bank was robbed the night before. John Gilbert suggests that he and Damon work together to find out who robbed the blood bank. Since she is short handed, Sheriff Forbes agrees for them to help in this matter. Of course, Damon is not too happy about it.
Later, Anna shows up at Damon's house to apologize on behalf of her mother for what happened to Stefan. Damon asks why Pearl can't apologize for herself. Anna tells him that her mother was very sorry and that she was upset because the Vampires had try to over throw her. Damon tells Anna that she needs to stop breaking into the blood banks. Anna tells Damon that it wasn't her that robbed the blood bank. Damon now realizes that it had to be Stefan.
At school, Elena is overjoyed to see that Bonnie is back. Right away though, Elena notices that Bonnie is acting very distant and she does not know why. Outside of school, Elena asks Bonnie why she never took her calls while she was gone and Bonnie tells her that she just wasn't in the mood to talk. Of course when Caroline shows up and embraces Bonnie, Elena hears that Caroline had talked to Bonnie every day on the phone.
Caroline also takes this time to remind Elena about the Miss Mystic Falls pageant. They both were nominated. Elena looks upset about this news because it was with her mother that she signed up to compete. Caroline asks her if she is going to drop out. Elena tells her that she shouldn't because it had meant so much to her mother.
At the Salvatore house, Damon confronts Stefan about the blood bank being robbed. Stefan denies everything and tells Damon that he is not drinking blood. Damon calls him a liar but it doesn't faze Stefan. He refuses to admit to Damon that he has a problem. Damon knows that Stefan is so new to drinking blood that his cravings will be out of control.
At the Founders Hall, the Miss Mystic Falls candidates are all interviewed on the many good deeds they have done in the community. Caroline has had a busy year with all of her achievements but Elena tells the panel that she knows she hasn't done much and has not been very involved in the community.
John confronts Damon once again and threatens to tell the council all about him and Stefan. Not liking this, Damon does warn him that he can kill everyone on the council. He can also rip John's hand off that has the special ring and then kill him too. John gets the picture and tells Damon that he will back down if he finds a special device that Jonathan Gilbert designed in 1864. Deciding to look into it, Damon agrees.
Stefan agrees to be Elena's escort on the Miss Mystic Fall's court. Before the pageant though, they all have to learn the special ceremony dance. Since Matt had to work, Bonnie steps in to be Caroline's partner. Once again, Bonnie gives Elena the cold shoulder. Seeing this, Elena asks Bonnie if they could talk for a minute privately. Bonnie tells her that since the Vampires escaped from the tomb, it means that her grandmother died for nothing. She blames both Stefan and Damon for this. Bonnie tells her that she knows she can't expect Elena to take sides but as long as she's with Stefan, she can no longer be her friend.
Anna arrives at the Founder's Hall the next day dressed up and looking beautiful. Damon waste no time and approaches her to discuss the device that John wants. Damon tells Anna that if they don't hand over the device, John Gilbert will tell the council about all of them. Anna agrees to ask her mother about it.
Damon surprises Elena upstairs in her dressing room to discuss Stefan with her. He informs her that Stefan has indeed been drinking human blood and that he has no control over it. Damon tells her that Stefan will do and say anything to get the blood. At that moment, Stefan steps into the room too. Damon leaves and Elena tells Stefan that she knows the truth now. Stefan storms out of the room.
Jeremy approaches Anna at the pageant. Anna tells him that she is upset with him because she thinks he only wanted to be a Vampire so he could be with Vicky. Jeremy confronts her back about using him to feed her mother.
Stefan shuts himself up in the bathroom and is so furious that he smashes in the mirror with his fist. Not realizing the danger, Amber, another pageant contestant enters the bathroom too. Asking if he's ok, Amber sees when he turns around that he looks like a monster.
At the top of the stairs, the Miss Mystic Falls candidates wait to be announced and escorted outside by their partners. When Elena's name is called, she descends the stairs but becomes confused when she doesn't see Stefan waiting for her. Seeing this, Damon immediately steps in and escorts Elena to the dance floor. Once the dance begins, Damon stares into Elena's eyes intensely and the two are in complete sync as they dance.
Stefan drags Amber out to the parking lot and compels her to stay with him. Stefan begins to battle against the demons inside of him that are telling him to kill her and drink her dry. Telling her he just wants one taste, he gives in and sinks his teeth into her neck.
At the pageant, Caroline is completely shocked when she hears her name being announced as the new Miss Mystic Fall's. She really thought that it would be Elena because her parents were dead and they were very much loved in the community. During this time, John and Sheriff Forbes check out the bathroom with the broken mirror.
Out in the woods, Stefan is still battling his hunger to feed and kill Amber. Compelling her, he tells her to be very afraid of him and to run away. Amber begins to run but within seconds, Stefan has already caught up with her and begins to feed hungrily from her.
At that moment, Damon and Elena show up. Stefan stops and looks at them with blood all over his mouth. Damon and Stefan begin to fight. Seconds later, Stefan cringes as if in severe pain. Clutching his head, Stefan looks up and sees Bonnie. She is using a spell to stop him from attacking. Stefan finds enough strength and runs off into the woods.
Minutes later, Sheriff Forbes shows up at the scene and questions Bonnie and Elena. They both tell her that they found Amber laying there. Sheriff Forbes assures them that Amber will be fine. Once Bonnie and Elena leave, Sheriff Forbes asks Damon if he thinks they saw the bite marks on Amber's neck. He says he doesn't think so.
Anna and Pearl meet up with Damon later. Telling Damon that Anna and her want to stay in Mystic Falls for a long time, she hands over the invention that John Gilbert wanted. Pearl tells Damon that she has no idea what the device is used for.
At home, Stefan sees Elena waiting for him. She tells him that she knows that it is just the blood making him this way and that it's not who he is. Embracing him, Stefan is shocked when he sees too late that Elena had a needle full of verbena that she just injected him with.
Damon walks in and asks her if she is sure of this? She tells him that it is the only way to help Stefan. Damon takes Stefan's body down to the basement and locks him up in one of the cells below.
Miss Mystic Falls Pictures