Season 3 » Do Not Go Gentle
Season 3 Episode 20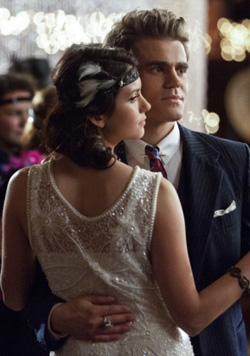 Klaus is engrossed in his painting when Rebecca arrives home. Handing over the stake, Rebecca watches on as Klaus immediately tosses it into the fire. Klaus is relieved and tells her to pack her bags because they were leaving town that night.
Knowing that her plan to destroy the family has not been completed, Rebecca tells him that she doesn't want to leave until after the dance. Rebecca finally convinces him to stay one more day when she tells him that Caroline will also be at the dance. Calling up Stefan, she is pleased when he says yes.
Calling Damon, Alaric tells him that after all that has happened, he wanted to leave town for a few days. Asking him why, Alaric tells him that he has been having black outs and that he would also make sure to take Bonnie's herbs.
After hanging up, Alaric gets a visit from Rebecca. Opening up one of the coffins, they look down to see the lifeless body of Esther. She tells him that with the help of a Vampire hunter, she could once again return to her body. Handing Alaric a dagger, who waste no time and plunges it into her chest. Soon, the body of Esther in the coffin awakes.
In the high school gym, Elena helps Caroline decorate for the Decade dance. She is pleased to see Matt and Jeremy helping each other out. She's happy to see her brother back home and bonding with his friends.
Caroline tells her that Bonnie will not be going to the dance with them because Jamie will be taking her. Looking a little bit bummed until Caroline convinces her to ask Stefan to the dance.
After finding the jar of herbs at Alaric's loft, Damon heads over to the hospital to see if Meredith had seen Alaric. She informs him that she hasn't and Damon shows her the forgotten herbs that Alaric said he brought with him.
Esther brings Alaric to the old cemetery where Klaus had killed her. She tells him this the place that is most powerful. Inside an old crypt, Esther asks Alaric for his ring, which he hands over.
Placing it in a metal bowl, she begins to say a spell. Within seconds, the ring bursts into flames and begins to melt. Once completely melted, she takes the white oak stake and covers it in the silver from the ring. She tells Alaric that now the white oak stake was indestructible.
Elena and Stefan arrive at the Decade dance in their roaring 20's costumes and see that the dance was in full swing. The two begin a slow dance together and Elena pulls away a bit to try and tell Stefan what happened between her and Damon on their Denver trip. Stefan tells her that he doesn't need to know and they continue to dance.
Turning her around, Stefan stares into the face of Damon and sees there is once again trouble. Telling them they need to talk, Stefan and Elena head out of the gym with him. Jeremy sees this and heads out after them.
Out in a private hall way, Damon explains to them that the evil Alaric is back. Damon and Stefan know that Alaric will be after Elena since she was a Vampire sympathizer. Damon tells Elena that the only thing they could do is kill Alaric.
At this time, Jeremy arrives and tells them there is no way they are going to kill Alaric. Jeremy heads outside and Elena follows him. She tries to convince him that they are not going to kill him.
Hearing a familiar voice, they turn around and see Esther standing there. Turning to Jeremy, Elena tells him to go get Stefan and Damon. Esther tells her that she means her no harm. Esther tells Elena that she must come with her and not wanting anyone to get hurt, Elena follows.
Once Jeremy finally arrives with Damon and Stefan, they see that Elena was no longer there. Preparing to follow Elena, Damon and Stefan soon find that they can't leave the school. Looking down, they see a salt ring surrounded the gym. Esther has trapped them with a binding spell.
Bonnie and Jamie enter a vacant class room to have a private talk when they are interrupted by Damon telling her that they needed her help.
Esther brings Elena to the crypt where she is surprised to see Alaric waiting there for her. Elena asks Esther what she was doing with Alaric and she explains that she was going to re-make him. She wanted to make him indestructible and turn him into a Vampire.
Elena tells Esther that Alaric would never do that. Esther explains that with each death Alaric had while wearing the ring, she was there on the other side nurturing him. Preparing him for this day.
Caroline and Tyler begin to dance and Tyler tells her that he was jealous of Klaus but soon Caroline convinces him that he is the only one she loves. Klaus arrives and asks Caroline to dance. Tyler tries to stop him but Klaus uses her sire bond connection to get Tyler to back on down. Not wanting Klaus to know he no longer had the bond, Tyler backs down.
While dancing with Caroline, Klaus tries to convince Caroline that she should leave tow with him. Caroline of course turns him down. Thinking she was mocking him, Klaus leaves the dance. Unfortunately, he also discovers that he is trapped at the school by Esther's boundary spell.
In a classroom, they all wait while Bonnie attempts to remove the spell. She tells them that Esther is fighting her. Klaus grabs Jamie by the neck and threatens his life unless Bonnie doesn't get the spell removed.
At the crypt, Elena tries to refuse Esther from taking her blood. Not wasting time, Esther uses her powers and soon is able to cut Elena's hand. Elena watches on in horror as her blood drops into the metal bowl. Once Esther is satisfied with the amount, Alaric picks up the bowl and drinks it up. Using the dagger, Esther plunges it into Alaric's chest.
Bonnie uses a locator spell and discovers where Esther is. Knowing they can't leave the school, Klaus, Damon and Stefan send Matt and Jeremy out to look for Elena.
While inside of the crypt, Esther hears something outside. Heading outside, she sees Matt and Jeremy aiming their weapons at her. Using her powers, she manages to get them now to aim the weapons at each other. Before they could fire their weapons at each other, Esther collapses to the ground. Alaric had plunged the dagger into her back.
Not having Esther's presence to fight against, Bonnie is able to remove the boundary spell. Once free, Klaus heads straight for the cemetery. At the crypt, Alaric tells Jeremy that he has no intention of completing the transformation.
Feeling helpless, Jeremy heads out of the crypt. Walking out of the crypt, Alaric sees everyone that cares for him waiting there. Knowing there is nothing to be done about it, Alaric heads back into the crypt.
Having brought Esther's body back home, Klaus places Esther in her own coffin. He then removes the dagger from Rebecca's chest. Looking down at his mother's lifeless form, he tells her that she will never have a chance to destroy him again.
Back in Alaric's classroom, Elena packs up all of Alaric's Vampire hunting tools. Ste tells Stefan that it must be done. She couldn't bear someone seeing it and thinking bad of Alaric.
Trying to ease her pain, Stefan brings her to the gym and tells her that not so long ago in that gym, she had told him to never give up hope. Crying, Elena tells him that she doesn't have anyone anymore. Looking in her eyes, Stefan tells her that she has him.
At the crypt, Meredith tells Damon that she gave Alaric a sedative and should help him go comfortably. She tells Damon that regardless of what Alaric says about being alone, that he knows he doesn't want to be.
Wrapped up in Jamie's arms, Bonnie looks up and sees Esther standing there. Esther tells her that her sisters needed her. Bonnie wakes up and realizes it was a dream.
Damon heads on into the crypt with a bottle of whisky. After a few drinks, Alaric finally passes out. Heading outside, Damon is shocked to see a barefoot Bonnie there. He asks her what she was doing there. She turns around as if in a daze and uses her powers to make him clutch his chest and fall to the ground.
Bonnie enters the crypt and using the dagger, cuts her hand open. Walking up to Alaric, she places her bloodied hand to his mouth. Alaric begins to drink heavily and soon his fangs are showing.