The Vampire Diaries Season 2 Episode 20 Synopsis, Pictures & Soundtrack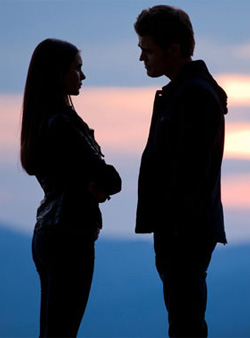 Damon is not happy when Elijah discusses the plan to use Elena to kill Klaus. He prefers sending Bonnie in, even though he knows it would kill her. Damon storms out, not wanting to hear anymore and feeling a bit helpless.
Mrs. Lockwood calls Tyler and pleads with him to come home. She tells him that she has been hurt and she was in the hospital. Once she is at the top of the stairs, Maddox is there. She asks him why she just said that. Using his powers, he tells her "because you had a terrible fall" and sends her over the stairs.
Jenna pulls a crossbow on Alaric when he enters the Salvatore home. Alaric tries to convince her that he is no longer Klaus. After he was about to reveal a very intimate moment they shared, Jenna believes him and puts the weapon down.
Asking why Klaus no longer had him, Alaric tells them because Klaus wanted him to deliver a message. That the sacrifice will take place that evening. Everyone is surprised that it is so soon.
When Mrs. Lockwood opens her eyes in the hospital, she sees Tyler there and a big smile appears on her face.
Matt sees Sheriff Forbes waiting for him at a table at The Mystic Grill and sits down with her. He tries to explain to her that he can't keep lying to Caroline. Sheriff Forbes tells him that he needs to a little bit longer. She tells him that it is hard for her too but that she had been raised to hate them and consider them all monsters. Seeing Matt's doubt, she reminds him that is was a Vampire that killed his sister.
Seeing Damon storm out, Elena decides to try and console him. She tries to make him understand that it is her life and her choice to make. Walking away, Elena is suddenly approached by a very determined Damon. Seeing his face change, Elena knows what he has planned. Damon bites open his wrist and makes Elena drink from it. Struggling but to no avail, the blood has already entered her body.
Stefan enters the room and is horrified to see what Damon had done. The two begin to fight. Damon tells him that he only did what he didn't have the balls to do. Damon thrusts a stake into Stefan's side and he falls down. Damon takes off when Alaric and Jenna step into the room. Alaric directs Jenna to get some bags of blood for Stefan.
After recovering from his wound, Stefan tells Elena that he wants to take her somewhere special. She reluctantly agrees. The two hike up a steep hill until they come upon a beautiful waterfall. Stefan tells Elena that they are still not there yet and that they needed to climb to the very top. Elena teased him about using Vampire magic and just whisking her to the top.
Once at the top, Stefan talks to Elena about what it means and what it's like to be a Vampire. Telling her that the colors all become more vibrant and your emotions are much stronger. Elena breaks down crying because she is upset that now all of her choices for a baby or even growing old had been taken away from her.
Saying good bye to his mother, Tyler heads on out but not before bumping into Jules in the hallway. She is irritated that he did not listen and came back to Mystic Falls. Jules reminds him that they needed to head on out and find a safe place to lock themselves up before the full moon.
Outside the hospital, they bump into Caroline who is shocked to see Tyler. Jules walks on to give them a few minutes of privacy. She explains to him that she was going to see his mother. Tyler lets her know that Jules had been helping him adjust to being a werewolf.
Suddenly Caroline holds onto her head and crouches over in pain. Not understanding, Tyler steps forward to help her but soon he too is crouching over in pain Maddox and Greta are there and they load them up into the vehicle.
Alaric sees Damon at the bar and joins him for a drink. Looking over at Alaric, Damon confesses that he knew he really screwed up. They both look over when they hear an unfamiliar voice say "gentlemen". Knowing instantly that it was Klaus. Before walking away, Klaus warns Damon not to try anything he will regret. Once alone, Alaric tells Damon he will help him out.
Alaric and Damon pay Katherine a visit at his apartment. Since he had helped her out when he gave her the verbena, Damon tells her that she is now going to repay him. After some convincing, Katherine finally tells him that Klaus had Caroline and Tyler locked up in the tomb.
Klaus arrives soon after and doesn't believe that Katherine hasn't betrayed him. Wanting to prove that he still had the power to compel her, he has her pull off her bracelet and walk into the sunshine. Once there, Katherine begins to scream out in pain. After a minute of this, he is convinced she is telling the truth and has her come out of the sun.
Arriving at the tombs opening, Damon is greeted by Klaus's witch Maddox. Soon the two begin to fight and Damon realizes the witch will be harder then he thought to kill. Suddenly he hears a gunshot and Maddox fall to the ground. Seizing this moment, Damon rushes over and snaps Maddox's neck. He sees Matt standing there with the rifle now directed at him. With lightening speed, he knocks Matt out and takes his gun. He is surprised to see Matt had loaded it with wooden bullets.
Down in the tomb, Caroline explains to Tyler all that had transpired since he had been gone. Damon shows up and releases Caroline. He was about to walk away without releasing Tyler but Caroline demands that he undo his chains too. Damon looks at him and tells him that he better race to the Lockwood cellar before the full moon.
Caroline rushes over to check on Matt and sees that he is fine. They all begin to leave when they see Tyler begin to show signs of transforming. Tyler tells them that the change was happening faster.
Upon arriving home, Stefan and Elena are greeted by Klaus. Stefan blocks Elena's way so she could not go to Klaus. Elena steps around him and tells Stefan that she must go to him. Holding his face, she tells him she loves him and to close his eyes. Once Stefan opens his eyes back up, he sees that Elena and Klaus are gone.
Stefan immediately calls Damon who doesn't take the news very well. Damon tells Stefan that he will take care of it. Once off the phone, Damon sees Tyler dropped to the ground and his body begins to seize. Caroline tries to tell him to hold on just a bit longer but soon sees it is impossible. Suddenly Tyler jumps on Damon and attempts to try and bite him. Finally throwing him off, Damon tells Matt and Caroline to run for the safety of the cellar.
Damon arrives at Klaus's to try and get him to postpone the sacrifice. Telling him that since he freed the Vampire and werewolf, there couldn't be a sacrifice. Showing Damon a video, Damon sees Klaus also has Jules locked up too. Klaus tells him that he always has a plan B. Knowing that he would need a Vampire, Damon offers up himself.
Caroline and Matt make it to the Lockwood's cellar but Tyler is right behind them. Putting chains around the cellar doors, Caroline tries to secure them both. Soon, Tyler the werewolf approaches and is growling with red eyes.
Greta leads Elena into the woods. Elena tries to appeal to Greta by talking about her family. Greta informs her that her family shouldn't have tried to find her because she wasn't lost. They soon come across a small clearing lit by small fires. Elena sees Jenna's lifeless body and runs for her. Checking her pulse, Elena is horrified to learn that Jenna was dead. Before she has time to stand up, Jenna sits up gasping for air. Knowing it was impossible, Elena looks to Greta who gleefully informs her that Jenna was in transition.
Katherine finally gets Damon to wake up. He asked her why Klaus didn't take him. Katherine explains that Klaus said he was already as good as dead. Not understanding until they both notice he has a werewolf bite on his arm.