Season 2 » The Sun Also Rises
The Vampire Diaries Season 2 Episode 21 Synopsis, Pictures & Soundtrack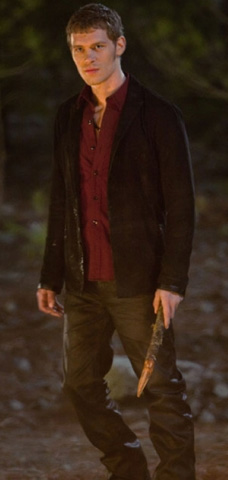 Tyler has now fully transformed into a werewolf and is violently trying to break into the cell where Matt and Caroline were. Using all her strength, Caroline tries to secure the door so Tyler could not break in. Caroline screams for Matt to stop but not before he fires off one shot and strikes Tyler. The werewolf collapses.
Back at the site of the ritual, Jenna tries to remember all that had transpired upon arriving there. Finally understanding what has happened, Elena explains to Jenna that Klaus had killed her and she was now a Vampire.
Greta shows up and removes Elena from Jenna, sending her into her own circle. Greta opens up her wrist and Elena is horrified as she watches Jenna drink hungrily from the open wound. Once she has finished, Greta surrounds the women with circles of fire. Minutes later, they see Greta throw Jules into another circle of fire. Greta slowed down Jules transformation into a werewolf and it was making her moan in extreme pain.
Caroline and Matt escape while Tyler was down. They make it back to the Lockwood home to wait it out until Tyler arrives. Caroline asks Matt how he knew she was a Vampire since she had compelled him to forget. He explains to her that her mother gave him verbena to drink. Caroline become upset when she finds out her mother also knows she's a Vampire.
On his way to answering the door, Damon feels a shooting pain where he was bitten. Pulling up his sleeve, he sees that the bite is getting worse. Opening up the door, he is surprised to see John standing there. John is not happy when he finds out that Damon bit Elena.
Klaus hands over the moonstone to Greta and soon the ritual begins. Greta begins to chant the spell while Klaus approaches Jules. In a matter of seconds, Klaus had ripped into her chest and pulled out her heart. At the altar next to Greta, Klaus squeezes the heart, allowing all the blood to drip into the container.
Alaric arrives at the old mansion and pulls Jeremy aside to tell him that Klaus has her and has turned her into a Vampire. Bonnie tries in vain to convince Stefan and Elijah to let her go and destroy Klaus. Knowing that it would mean her death, they tell her no. Elijah and Stefan decide the only way is for Stefan to step in and take Jenna's place.
While watching out for Tyler, Matt expresses to Caroline that as much as he cares for her, he can't be with her. Telling her that his life was complicated enough. Hearing a noise outside, Caroline opens the door to find Tyler laying there naked. Putting Matt's coat on him, they bring Tyler inside.
Once Stefan finds out where Klaus is having the ritual, he sets out to go there. Before leaves though, he makes sure that he has Elijah's word that he will destroy Klaus. In response, Elijah explains to Stefan that Klaus was responsible for killing their whole family including their mother and father.
Back at the ritual, Klaus prepares to sacrifice Jenna next. Approaching her, Klaus stops and looks up the hill and sees Stefan standing there. Getting to Stefan in seconds, Klaus listens to Stefan try to make a trade with him. Elena tells Jenna to try and listen to what Klaus and Stefan were discussing. Jenna's face shows her shock when she relates back to Elena what Stefan wanted to do.
Jeremy and Bonnie discover a spell they could use to save Elena. The spell takes the life force one person and transfers it to another. John decides that he will make the sacrifice and trade his life for Elena's. Bonnie begins to chant the spell above John.
Klaus and Stefan join Jenna. Klaus tells Stefan that he has other uses for him and plunges a stake into his back. Once the circle of fire disappears, Jenna tries to make a run for it. Soon Klaus is upon her and drives a stake through her heart, killing her right before Elena's eyes.
Stefan watches on helplessly while Elena goes to Klaus. Putting aside her hair, Klaus begins to drink her blood until her lifeless body falls to the ground. Klaus immediately begins to feel the power of being both Vampire and werewolf. With the full moon up above, he transformation begins.
Before Klaus fully changes, he is thrown to the ground by the power of Bonnie's spell. Using all the power she has, Bonnie soon has Klaus writhing in pain. Damon steps up behind Greta and snaps her neck quickly. Picking up Elena, Damon brings her over to Stefan. Damon pulls out the stake from Stefan's back and he tells Damon to take Elena away. Elijah joins Klaus and is about to finish him off when Klaus tells him that if he dies, Elijah will never know where the bodies of their family is. Wanting this more than anything, Elijah picks Klaus up and vanishes into the night.
Back at the mansion, John hands over a letter to Jeremy to give to Elena. Hearing the arrival of Damon, they all head to the main floor. Seeing Elena's lifeless body, John steps out into the sunlight. Soon, Elena wakes up gasping for air. Damon asks if she is alright and she tells him she feels fine. At the same time she wakes up, outside, John drops to the ground dead. Damon tells a distraught Alaric what had happened to Jenna.
Tyler wakes up and is happy to see Caroline waiting there for him. He tells her thank you for helping him the night before. Caroline begins to cry and she tells Tyler that her and Matt broke up because he couldn't handle everything that had happened. Tyler slips his arm around her to offer comfort.
The following day, everyone prepares for the funerals of John and Jenna. Jeremy enters Elena's room and hands her John's letter. As she reads it, she understands now that he truly did love her and only wanted to protect her. He even left her his ring to give to her child one day. At the funeral, Damon informs Stefan about the bite. Stefan swears to Damon that he will find a way to save him.