The Vampire Diaries Season 3 Episode 10 Synopsis, Pictures & Soundtrack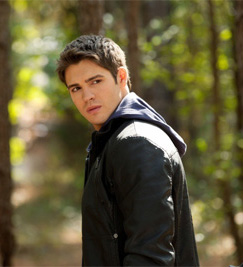 Bonnie slowly approaches the old mansion and walks in. Once inside, she hears the whispers of the ancient witches pulling her towards the cellar. Once there, she sees a coffin. Opening up the lid, she sees Klaus's body and wrapped around his fingers is the necklace. Before she has a chance to reach for the necklace, she awakens and discovers she is in her bed.
Elena tries to enjoy an early morning jog when she notices a mysterious hooded man also running behind her. Feeling nervous, she takes off and soon discovers that he is still chasing her. Just when she thinks she has lost him, she turns around and is face to face with him. Saying "excuse me, he'd better watch where he was going", he takes off running again.
Damon tries to convince Alaric at the Mystic Grill to partake in some early morning drinking with him. Telling him no, Alaric tells Damon he was there to talk to Jeremy about his grades. Hearing this, the bartender tells him that Jeremy didn't work there anymore and that he was fired the week before.
At that moment, Jeremy was enjoying shooting his bow and arrow at beer cans with Tyler. Showing Jeremy how fast his reflexes were, he has Jeremy soot an arrow at him. Tyler catches it with his hands.
Klaus shows up at the Mystic Grill and confronts both Elena and Damon about the whereabouts of Stefan. Also, he was wondering if they had seen Rebecca and of course they tell him they have no idea. Klaus informs them both that he has decided to stick around Mystic Falls.
Once again Bonnie finds herself back at the old mansion but this time it's not a dream. Hearing the whispers of the ancient witches again, she is lured into the cellar. There, she sees she is not alone. Stefan is waiting there for her. She sees the coffins and Stefan tells her that he needs her to put a spell on the coffins so they will disappear.
Elena and Alaric prepare for dinner when Jeremy arrives home. Elena confronts him about getting fired but he doesn't want to discuss it. He tells them that he had been hanging out with Tyler. Seeing that it made them upset, Jeremy goes ahead and invites Tyler in since he was waiting outside.
Tyler tries to explain to Elena and Alaric that he has his own free will but that he is loyal to Klaus because he was sired by him. They try tell him that Klaus has control over him but Tyler refuses to listen.
Meanwhile, Klaus shows up at the Salvatore home and demands that Damon find Stefan. Telling him that Stefan stole something from him. Damon of course refuses to help. Klaus opens up his phone and makes a call, showing Damon that he will cause harm to those he cares about.
Checking his watch, Tyler excuses himself from the table and heads on out. After receiving a call, Jeremy leaves too. Thinking it was strange, Elena looks at Jeremy's clean plate and sees his ring sitting there.
They both race outside and see Jeremy standing in the middle of the road. Looking down the street, they see a black truck racing straight for Jeremy. Before it has a chance to hit Jeremy, Alaric pushes him out of the way. Alaric is hit instead by the truck. When the truck passes, Elena sees that it was once again the hybrid she met jogging.
Calling Bonnie, Elena tells her what almost happened to Jeremy. She asks Bonnie if she could use a locator spell and find Stefan. Bonnie agrees to help and tells her where she could find Stefan.
Damon and Elena head over to the old mansion. Once inside, Damon finds that the old witches still will not allow him to enter without getting burned by the sunlight.
Elena continues on in to find Stefan. She finds him and begs him to return the coffins. He refuses and tells her he is not interested in helping. Feeling betrayed and helpless, Elena slaps him and leaves.
Fighting against the witches spell, Damon uses his lightning speed and reaches Stefan. The two begin to fight and before long they are outside. Damon reaches for a stake and drives it into Stefan's side. Stefan finally confesses that he didn't kill Klaus in order to save him. This doesn't make Damon feel very good.
Elena arrives home to find Alaric not healed and in very bad condition. Not knowing what else to do, she calls an ambulance. When they finally arrive, Tony, Klaus's hybrid shows up and compels them to leave.
Tony tries to convince Elena that the only way to save Alaric is for him to come in and feed some of his blood to him. Before she can answer, Tony collapses outside. Jeremy had shot him in the back with an arrow. Telling her he wasn't done, Jeremy retrieves a meat cleaver and returns to cut off Tony's head in front of a shocked Elena.
Damon and Stefan decide to work together to kill Klaus. Damon enters the room where the coffins are but of course he can't see them. A moment later, they are right in front of him. Stefan explains to Damon about the spell.
At the hospital, Alaric is looked over by an attractive doctor named Meredith Fell. She is shocked to see him completely healed from his wounds. She asks him if he has a guardian angel or a deal with the devil. He tells her he has a little of both and walks out. Outside, he is not too happy when Jeremy tells him that it was Damon's blood that saved him.
Klaus arrives at the Salvatore home. Elena greets him and brings him to the cellar. Opening up a door, she shows him the lifeless body of Rebecca. Honoring their deal, Klaus tells her that he will spare Jeremy's life and he will make sure Rebecca doesn't come after her.
Alaric, Damon and Elena all decide that it's best to compel Jeremy and have him leave town. Damon sits down with Jeremy and tells him that he is going away to stay with friends in Denver for a while. That he will go to school, meet new friends and have a better life.
Later, Damon tries to console Elena about Jeremy leaving. She thanks him for helping her and being there for her. Damon decides to tell her that Stefan didn't betray them and that he did what he did to save Damon. Damon begins to walk away but changes his mind and comes back and shocks Elena by kissing her.