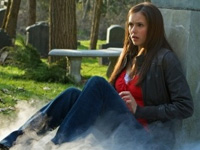 Driving down a dark road on the way back from a concert, Brooke and Darren discuss the events of the evening. Suddenly out of nowhere, a man appears in the middle of the road. Swerving off the road, Darren still ends up hitting the man.
Telling Brooke to call 911, Darren steps out of the car to check on the victim. Slowly approaching the man, Darren is surprised when the man opens his eyes and reaches for his throat and proceeds to ravage his neck.
Having no luck getting a signal, Brooke steps out of the car to check up on Darren. Calling for him, Brooke is frightened when all of a sudden Darren's body is dumped on the hood of the car. Running away screaming, Brooke is snatched up by the mysterious creature.
Writing in her diary, Elena tries to express that "today" will be better than the last. That she will smile more and let everyone know she is fine. She is trying to put on a brave face since her parents died in a horrible car crash that past May.
Aunt Jenna is now Elena and her brother Jeremy's guardian. Jenna is still young herself and is finishing up her college career. Trying to be the good "parent", Jenna offers to make them breakfast. Of course, realizing they can take care of themselves, Jenna rushes off to a meeting she's late for on campus.
Getting a ride to school from her best friend Bonnie, Elena gets an earful on how Bonnie believes she is psychic. Bonnie had just found out that she is a descendant of a Salem witch. Stating the fact that she has made predictions that have come true, Bonnie and Elena's conversation comes to an abrupt halt when a crow hits their car window. Freaking out, Bonnie pulls over to make sure they were alright. No one was hurt and they pull off to drive to the school "Mystic Falls High School".
Standing next to her locker with Bonnie, Elena attempts to wave to her ex-boyfriend Matt. Not fully over Elena, Matt looks the other way. Obviously, the break-up was harder on Matt than it was on Elena.
Approaching Elena and giving her a big comforting hug, her friend Caroline just wants to make sure she's alright. Caroline has a good heart but also has a ear for all the latest gossip.
Outside, Jeremy hands Vicki a couple of pills to take which she takes immediately. He really cares for her but she just can't get past her own problems to see it. Coming along and breaking up the conversation is Tyler. He also wants Vicki but Jeremy knows he only wants her for one thing. Jeremy walks away upset.
Walking by the office, Bonnie and Elena stop to check out the "new" guys butt in admissions. Both of them like what they see and hope the front is just as nice. Not having the proper documents to enroll into school, Stefan soon has the office attendant seeing it his way and she proceeds to enroll him.
Seeing her brother Jeremy stagger into the boys room, Elena follows in after him. She confronts him about being "stoned" on the first day of school. Of course he denies it. He too is fighting through his grief but she thinks he's using drugs to ease the pain. Not willing to give up on him, Elena tells him that she will always be there to ruin his "high" if that's what it takes to help him.
Leaving the boys room, Elena stumbles into Stefan. Feeling stunned and sensing a strong connection to him. In class, she discovers he's there too and he seems to be watching her. Of course, this makes her smile but makes Matt jealous.
On the walk home, Elena stops off at the graveyard her parents are at. Sitting by their gravestones, Elena takes out her diary and begins to write. Suddenly a crow appears and a mysterious fog develops. Spooking Elena, she tries to shoe the crow away. Sensing that she's not alone, Elena begins to run away.
In her haste to run away, Elena stumbles but soon gets up. Out of nowhere, Stefan appears to offer her help. Feeling relieved, Elena calms down a bit. Making light talk, Elena asks him about his unique ring. He explains that it is a family heirloom. Asking if she's hurt, Elena pulls up her jeans to reveal that she had a bloody scratch. This of course make Stefan uncomfortable and disappears as fast as he appeared.
At the diner where Vicki works, Jeremy tries to talk with her. Apparently, they had "hooked" up during the summer and he seems to care more deeply about it than Vicki does. Telling him she's busy, she walks off.
Surprising Elena, she finds Stefan on her front door. He has brought back her diary that she dropped in the graveyard earlier. He lets her know that he did not read it. He knows how private diaries can be and lets her know that he too keeps a diary. Not wanting him to go just yet, Elena invites him out to meet her friends.
Meanwhile at the diner, Bonnie tries to explain to Matt that Elena just needs more time and not to rush her. Of course that's all blown away when Elena walks in with Stefan. Feeling somewhat defeated, Matt steps up and introduces himself to Stefan before heading out.
Caroline, Bonnie and Elena sit Stefan down and proceed to interrogate him and get all his details .He informs them that his parents are dead and that he now living with his uncle. Noticing that he's single, Caroline immediately invites him to a party the next night.
Arriving home later, Stefan is confronted by Zach who is not his "uncle" but who is actually his nephew. Zach is upset about the bodies of Brooke and Darren that were found mutilated. He believes that Stefan had something to do with it. Stefan tries to convince Zach that is was not him and that it was an animal attack.
Later, Stefan opens up a cabinet where he keeps his diaries. He pulls out a diary dated 1864 and looks upon the picture of "Katherine". Katherine looks exactly like Elena.
The next night at the party, Bonnie and Elena are standing near a fire pit discussing Bonnie's psychic abilities. Deciding to use a beer bottle as a crystal ball, Bonnie begins to tell Elena her reading. When Bonnie touches the bottle, she actually does get a vision. It is of Elena, the crow and fog. She has a feeling that it is just the "beginning" of something yet to come.
Stefan arrives just in time and pulls aside Elena so they could have a private moment on the bridge. Elena opens up about her parents devastating car crash and that she was the only survivor.
In the woods outside the party, Tyler and Vicki are making out. Tyler uses force and pressures Vicki to go farther. Vicki says "no" and struggles to get free. Thankfully, Jeremy arrives just in time. Getting rid of Tyler, Jeremy tries to explain his feelings to Vicki. Not wanting to believe him and open herself up for any pain, Vicki storms off into the woods.
Soon it becomes foggy and Vicki begins to panic. She has a feeling that someone or something is watching her. Out of nowhere, a man appears and attacks her living Vicki for dead.
On his way to refill Elena's drink, Stefan is confronted by Caroline. Sensing that she wants to have more than a friendship with him, Stefan informs her that he wants nothing more than friendship from her. Caroline is left feeling let down.
Seeing Jeremy head out into the woods, Elena follows after him. Soon, Jeremy stumbles upon the prone body of Vicki. Seeing that she is barely alive Elena calls out for help. Vicki appears to have a viscous wound on her neck. A begins to grow around them and Jeremy notices Stefan looking on. Making eye contact, Stefan rushes off.
Arriving home, Stefan informs Zach that there was another attack tonight and he did not have anything to do with it. Opening up his bedroom door, Stefan is confronted by his brother Damon whom he hasn't seen in 15 years. Now Stefan knows whose behind the senseless killings.
Warning Damon to stay away from Elena falls on deaf ears. Stefan and Damon begin to fight and they end up breaking through the window and landing on the hard ground below. Damon reminds Stefan that he had promised him a "lifetime of misery" and he intends to make true his threat.
During the fight, Damon somehow manages to get Stefan's ring. Knowing that it is what allows Stefan to walk in the daylight, Damon hands him back. Making one last effort to get his threat across, Damon throws Stefan into a wall, stunning him.
At the diner, Bonnie is trying to sober up Caroline. Not having much luck with this, Bonnie listens on while Caroline complains about Elena. She is depressed that she can never get the "guy". She feels that Elena doesn't even have to try and she always manages to get the guy.
Having had enough, Bonnie gets up to pay the bill. Caroline soon notices a cute guy staring at her. She smiles and he smiles back. Apparently, Damon is not heeding Stefan's warning and will be getting involved with Elena and her friends.
Back at the hospital, Jeremy watches over Vicki. She wakes up and tries to speak. Jeremy tries to comfort her but Vicki wants to speak. She finally manages to say one word…"Vampire".
Stefan appears at Elena's door to make sure she's alright. Wanting to be comforted by him, Elena invites Stefan in.
Pilot Pictures