Season 3 » All My Children
The Vampire Diaries Season 3 Episode 14 Synopsis, Pictures & Soundtrack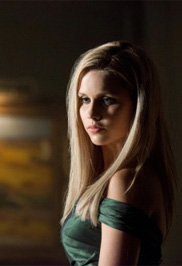 After being ignored by both Stefan and Damon, Elena decides to pay them a surprise visit. Arriving at their door, Elena is the one that gets a surprise when she sees Rebecca standing next to Damon. Seeing that she was still in her ball gown, Elena realizes that Rebecca had spent the night. Grinning, Rebecca slides on past Elena.
Finally alone, Elena explains to Damon about what Esther had planned for her family. This news of course makes Damon happy. Elena wants him and Stefan to help save Elijah since he had helped save her life not too long before. Seeing that they had no interest in helping, Elena leaves disgusted.
Feeling bored, Klaus and Cole head on out to the Mystic Grill for some entertainment. Not before they give Rebecca a hard time for coming in so late. Elijah finds Rebecca and shows her the burnt sage. Not understanding what it meant, Elijah explains that their mother used it in a privacy spell. This makes him suspicious as to what their mother was trying to hide.
Bonnie tells Elena that Esther had stopped by that morning and asked for her and her mother's help. Further explaining, she tells Elena that Esther wants to channel all of her families power to complete the spell that night during the full moon.
Later, Elena opens up her front door and finds Elijah smiling at her. Asking her if she would join him, she heads out. He takes her out into the woods where his family first lived hundreds of years before. Finally turning to her, he confronts her about lying to him. She tries to explain about what his mother has planned. Stomping on the ground, a hole to the tunnels below opens up. Grabbing onto Elena, Elijah jumps in.
Damon calls Alaric to check up on Elena. Alaric tells him he hadn't seen her all day. Hanging up, Alaric turns his attention to Meredith. They are down at the Mystic Grill when they bump into Cole and Klaus. Alaric notices that Meredith becomes a bit uneasy when she looks at Cole.
Bonnie and her mother Abby meet up with Esther and Finn at the old mansion. Calling them sisters, she grabs their hands and tells them that tonight they will restore the balance of nature.
Elena tries to escape but is soon confronted by Rebecca. Happily Rebecca shares with her that if Damon and Stefan don't do what Elijah tells them too, she will have the pleasure of killing her.
Walking into the den, Damon and Stefan see Elijah sitting there. He tells them he has Elena and that if they don't kill Bonnie or her mother by the full moon, he will have Rebecca kill Elena.
Stefan and Damon come up with another solution to the problem. Knowing that if they kill one, they will end up killing them all. Knowing that Klaus and Cole were at the Mystic Grill getting drunk, they send Caroline down there to distract Klaus.
Caroline arrives at the Mystic Grill and strolls passes Klaus and Cole. Calling her back, Klaus tries to talk to her but she soon blows him off and walks outside. Crossing the street, Klaus catches up with her and convinces her to sit and talk to him.
Inside, Cole walks over to Meredith and tries to flirt. She wants no part of it and tells him to leave. Not listening, Cole continues until Alaric arrives and under the cover of Meredith, pierces Cole's chest with a stake.
Instantly, Rebecca and the others feel the pain from the stake. Klaus grips his chest and demands Caroline to tell him what she did. Dragging Cole out back, Damon and Alaric are soon confronted by Elijah and Klaus. Klaus pulls out the stake and they all feel the relief. Turning to Damon, Elijah now tells him that he'd better stop his mother now or Elena will die.
Rebecca wakes up and sees that Elena had escaped. She begins to chase her through the tunnels until she finally sees her enter the room with the cave drawings and her mother's coffin. Trying to enter, Rebecca finds that she can't. Elena explains to her that the cave has a spell on it that does not allow Vampires to enter.
While Elena searches for a way out, Rebecca comes back with a can of gasoline and a box of matches. Rebecca splashes the gasoline on Elena and into the cave. Trying to terrify her, Rebecca begins flicking matches into the cave. Pulling out her cell phone, she video tapes Elena and asks her if she has any last words.
Seeing Klaus, Elijah and Cole approach the circle for the ritual, Esther tells Bonnie and Abby to leave. Esther and Finn stand in the center, protected by the spell. Klaus confronts her and her horrible plan to kill off her family. Esther calls them all a curse and that she has no intention of releasing them.
Bonnie and Abby enter the mansion for protection. Bonnie tells her mother that they will be safest in the basement. Once in the basement, Bonnie realizes that her mother is no longer behind her.
Stefan steps out of the shadows and Damon steps up behind Abby. Stefan tells Bonnie that they have to kill one of them in order to save Elena. Damon grabs Abby and breaks her neck.
Esther instantly feels the power of the spell vanish with the death of Abby. The flames around the circle become higher and soon Finn and Esther vanish too.
Back in the cave, Rebecca tells Elena that it was all over and she could leave.
Explaining that Bonnie's mother was killed and turned into a Vampire.
Showing up at Caroline's home, Elena asks to see Bonnie but Caroline tells her that Bonnie wants to be alone. She is sitting with her mother while she goes through the transformation. Understanding, Elena leaves in tears.
At home, Stefan confronts Damon about killing Abby. In the car, they had decided it would be Stefan and not Damon that killed her. Saying that he was used to being the bad guy.
Damon soon confronts Stefan and asks him how long it had been since he last drank human blood. As much as he denies it, Damon knows that Stefan is trying hard to becoming the old Stefan that Elena fell in love with.
Rebecca arrives home to find Klaus burning up all of the sketches of Caroline. He tells her that it was all over. Rebecca however tells him differently. She shows him the video she took in the cave. On it she tells him to look at the cave markings. It shows that the old white oak tree was still alive. This means they still are in danger.
Waking up in pain, Alaric looks in and sees Meredith asleep and heads to the kitchen for some pain pills. Seeing medical records on the table, Alaric flips through them.
He is surprised when he sees wrapped in a cloth the dagger used in the murders. Looking up, he sees Meredith holding a gun on him. Telling him he wasn't supposed to see that, Meredith fires off her gun.