Season 1 » Let The Right One In
The Vampire Diaries Episode Seventeen Synopsis, Pictures & Soundtrack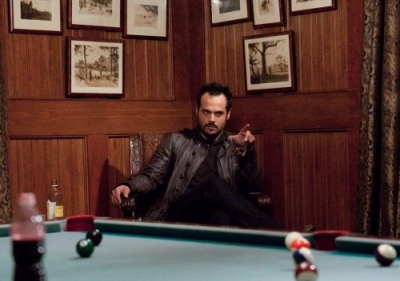 A dark storm has arrived in Mystic Falls. Waking up to the storm, Elena gets up to shut her window. Alone in his room, Jeremy talks with Anna. He tries to convince her to turn him into a Vampire. Anna still refuses him.
At the Gibbons farm house, Frederick is losing patience with having to stay inside. Seeing the dark storm approaching, he tells Pearl that he would like to leave. Pearl tells him that he must have more patience and that revenge is not the way to go. She also informs him that she will be heading out the following day to try and find out who is taking verbena. Once Pearl has left, Frederick calls his fellow Vampires and tells them that revenge is still the plan.
Damon and Stefan try to figure out a way to get rid of the new Vampires. Of course, Elena wants nothing to do with Damon since he was responsible for turning her mother into a Vampire. Elena soon leaves and Stefan decides to go out and find a small critter to feed on.
Damon does offer up the 2 bags of "soccer mom" blood he has in the fridge but Stefan declines. Once Stefan is deep in the woods, he gets a feeling that he's not alone. Before he can act, the Vampires attack and bring him to the farm house.
At the Mystic Grill, Anna and Jeremy are hanging out. Anna notices that Jeremy has a unusual bracelet on. Jeremy tells her that Elena gave it to him. Seeing her interest, Jeremy offers to give it to Anna. She tells him no because she knows it has verbena in it and wants it to keep him safe from any other Vampires.
While working, Matt says goodbye to Caroline because she is heading out in the storm to visit her dad. He doesn't like her driving in this storm but she has no choice. With a warm hug and a kiss from Matt, Caroline heads on out.
Damon notices that Stefan is taking longer than usual to hunt for blood and begins to call him. His calls go straight to voice mail. He begins to worry and calls Elena. Now both of them are worried that Stefan is in trouble. Damon tells her that he might know where he is and heads on out. Once at the farm house, Damon knocks and gets Frederick. Frederick has Miss Gibbons deny Damon entrance into the house. Before leaving, Frederick shows Damon Stefan and tells him of his plans to torture him.
In the basement, Frederick begins his torture. He ties Stefan up to a beam from the ceiling using verbena soaked ropes to hold him. Harper tries to put a stop to it and warns Frederick about Pearl. Frederick tells him that he's now in charge. Not wanting anymore interference, Frederick orders Harper to be also tied up and staked.
Not knowing what else to do, Damon and Elena approach Alaric about helping save Stefan. Alaric wants no part. Damon tells him that Pearl knows where his wife Isabel is. Hoping that it is true, Alaric finally agrees to help.
At the Mystic Grill, Jeremy is still trying to convince Anna to turn him. Soon their conversation is cut short when Pearl appears. Anna leaves and Pearl asks her who she was talking to. Anna tells her that he was just a friend from the library.
On their way out, a man tells them that they should wait until the storm dies down. Not needing any advice from a stranger, Pearl continues to leave until she overhears the server calling him Mayor Lockwood. Of course, Pearl soon changes her tune and decides to befriend him. Within minutes, they are all sitting at a table talking.
At Alaric's class room, Alaric and Damon try to form a plan of attack. Damon seems pretty impressed with Alaric's Vampire hunting tools. Elena steps in but they refuse her to help. Damon tells her that it is way too unsafe and that he couldn't protect her. After a minute, she soon has them convinced that she could drive the getaway car. Without them seeing, Elena grabs a verbena dart and shoves it into her purse.
Having to take a detour because of the storm, Caroline begins to feel lost when she has to drive down a dirt road. Before long, she finds herself stuck in the road. Her tires won't budge. Adding to her troubles, she discovers that she has no cell service either.
Posing as a stranded car victim, Alaric knocks on the farm house door and Frederick opens the door. Frederick allows him in tells him the phone is in the kitchen. Once in the kitchen, Alaric kills one Vampire quietly. He turns on the water and the blender to cover any noise. Grabbing Miss Gibbons, Alaric quietly makes his way back to the front door to let Damon in. Alaric tries to convince Miss Gibbons to allow Damon entrance but she won't. Damon has her step out than he snaps her neck. Now, he can enter the home.
Not wanting her mother to notice her talking with Jeremy, the two begin to text each other. Pearl does notice Anna and Jeremy and asks Mayor Lockwood who the boy really is. He tells her that it is Jeremy Gilbert. Pearl is silently furious.
Alaric races back to his car for his Vampire hunting tools and discovers that Elena is not there. Elena has snuck down to the basement to try and locate Stefan. Not noticing that a Vampire spots her and plans to attack her, Elena is shocked when Damon is there to kill him first.
Feeling completely helpless, Caroline gets out of her car and begins to walk around to try and get cell service. Not watching where she's going, Caroline slips down a ravine. Scared, she grabs on to a root from a tree. As the dirt falls away, Caroline begins to scream because she sees a human arm.
Once inside the ladies room, Pearl confronts Anna about hanging out with Jeremy. Anna breaks down and tells her that Jeremy knows she's a Vampire. Very upset, Pearl slaps Anna really hard. Upset now as she walks out, Anna texts Jeremy and tells him that she will change him into a Vampire.
Down in the dark cellar, Stefan tries to thank Harper for trying to help out earlier. Soon, Damon and Elena are there and untie Stefan. Stefan tells them to help Harper and then Damon has Elena take Stefan back to the car.
Once Elena and Stefan are gone, Damon is soon fighting off Frederick. Frederick leaves to pursue Stefan once 2 other Vampires arrive to fight Damon. Damon soon fights them off with a little bit of help from Alaric.
Back at the car, Elena notices too late that the keys are gone. Before she can stop it, Frederick breaks through the windshield. He begins to viscously attack Stefan. Elena tries to help but is knocked down. After a final plunge of a stake, Stefan starts to fade away. Afraid to lose him, Elena demands Stefan to drink her blood from an open wound on her wrist. He tries hard not too but he soon begins. Finally getting him to stop, Stefan gets up and is now strong enough to finish off Frederick. Killing Frederick violently, Elena discovers that Stefan looks more like a savage beast than the Stefan she knows. She knows that it was his drinking the human blood that brought out this savage side of him.
Alaric finish up in the basement and begin to leave the farm house. Once outside, they soon find themselves outnumbered by Vampires. Closing the door, they try to figure out what to do. A moment later, they hear Pearl's voice telling the Vampires to back off. Stepping inside and seeing all the dead Vampires, Pearl asks Damon what has he done. Damon explains to Pearl that her Vampires attacked him and kidnapped Stefan. Also, that Frederick had Stefan tied up in the basement and was being tortured.
Matt arrives home after work and is surprised to see that his mother actually had a home cooked meal waiting for him. Hearing a knock at the door, Matt gets up to answer it. He sees Caroline there with her mother. Sheriff Forbes steps in to tell Matt and his mother that they have found Vicky's body. Mayor Lockwood also gets the call from the Sheriff about Vicky and tells his son Tyler the news. Jeremy overhears and is devastated.
At Stefan's, he tries to apologize to Elena because she had to see that side of him. He can see it in her eyes that she is still frightened by him and what she saw him do. Breaking up the tension, Elena gets a call from Jeremy telling her that they found Vicky's dead body. She races over to comfort him.
At Matt's, Caroline tries to comfort him but he pushes her away and tells her that he needs to be alone for a while. Of course this changes when Elena arrives. Matt instantly opens his arms and embraces Elena while Caroline looks on.
Jeremy and Elena arrive home later and Jeremy goes straight to his room. Once there, he begins to tear up any papers he had about Vampires. Anna arrives and sees this. Jeremy explains to Anna about Vicky and soon she realizes that he just wanted to be a Vampire because he thought Vicky was. Leaving abruptly, Anna is gone before Jeremy could apologize and explain.
Damon arrives home to find a shocking scene. Looking like a junkie trying to get his next fix, he sees Stefan crouched on the floor drinking all the "soccer mom's" blood from the pouches. Blood is all over his mouth as he continues to drink.
Let The Right One In Pictures