Season 3 » Break On Through
The Vampire Diaries Season 3 Episode 17 Synopsis, Pictures & Soundtrack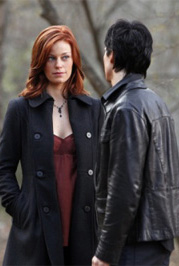 While laying down for a MRI, Alaric becomes alarmed when he looks into the mirror and sees his eyes change. He soon begins to panic but get's himself under control. Not wanting to alarm Elena or Meredith, he tells them that he is fine.
After not finding anything in the MRI, Alaric prepares to leave. Before he does, he takes off his ring and hands it back to Elena. Telling her that he doesn't want to ever wear it again. Damon arrives to bring Alaric home.
Before he leaves, Elena confronts Damon in the parking lot regarding Stefan. Damon tells her that Stefan is a predator and needs human blood. With his help, he hopes to teach Stefan self control.
Caroline arrives back at Abby's farm with some blood she just obtain from a local blood bank. Bonnie watches her mother looking sad while she walks around her garden. Bonnie tells Caroline that she made her mother a daylight ring but Abby doesn't seem to be happy. Caroline assures her that Abby just needs time to adjust.
At the Wickery Bridge construction site, Mayor Lockwood approaches Alaric and asks him about the new sign for the bridge. Telling her that he completely forgot, she says it's ok and at least they will have it for the unveiling.
Looking through the crowd, Damon focuses on a red head and is surprised to see it is Sage. Approaching her, Sage tells him that she was just passing through. They are soon interrupted when Rebecca joins them. Rebecca is not too happy to see Sage and tells her that she wasted her time because Finn was no longer in town.
Elena arrives at the Salvatore home to borrow a book about Samantha Gilbert. She soon bumps into Stefan. Not wanting to bother him, Elena turns to leave. Before she does, Stefan tells her that instead of reading the book, he could tell her all that she needed to know. He informs her that Samantha was placed in an insane asylum and tried to kill herself with knitting needles. She ended up bleeding to death.
Strolling through the woods, Sage explains that she was there to find Finn. Telling Damon that Finn was her one true love. Upon hearing that he was released from the coffin, she came to Mystic Falls to be with him.
Damon tells her that he is trying to figure out what it is that Rebecca is up too. Sage agrees to help Damon. They plan to put Rebecca in a vulnerable situation so that Sage can read her thoughts.
Finding Rebecca at the bridge, Damon invites her over to his house for a private party. She declines but he knows she will be there.
Caroline finds Jamey chopping wood and asks him why he won't go into see Abby. Getting too close, she sees the fear in his eyes. Now she realizes that he is truly frightened of Abby now that she was a Vampire.
After skimming through his police files with Meredith, Alaric decides to open up to her and confess that it was he that killed Logan Fell. Meredith tells him that she understood and wanted no part of any Vampire business.
Entering the kitchen with firewood, Jamey sees Bonnie cooking. He explains to Bonnie that after chatting with Caroline, he realizes that he needs to get over his fear and talk to Abby.
Abby finds Jamey adding wood to the fire and quickly the two embrace. Soon temptation takes over and Abby bites his neck and begins to feed. Bonnie arrives just in time and pulls Abby off of Jamey.
Sage and Damon wait patiently for Rebecca to arrive. They soon hear the door bell. After a few drinks, Sage and Damon begin to dance together while Rebecca watches. Feeling left out, Rebecca begins to feed from the male piano player.
Seeing this, Damon joins her at the piano and tries to kiss her. Asking him about Sage, Damon tells her that he doesn't want Sage, he only wanted her. They begin to kiss.
Bonnie agrees to help Alaric. She tells Elena that she will need a personal item of Alaric's that he had before he first started wearing the ring. Telling Alaric this, he tells her that his wedding ring would work but it was at his loft. Elena sets out to retrieve it, leaving Alaric and Meredith home alone.
Sage enters Damon's bedroom and sees Rebecca sound asleep. Silently approaching, she touches Rebecca's hair and within seconds, motions for Damon to follow her.
Naked and alone in the shower together, Sage shows Damon what Rebecca was looking for during a kiss. Later, Sage finds Damon looking through the old mill ledgers and discovers the Wickery Bridge was made from the tree.
Sage warns him not to hurt Finn. He finally promises to spare Finn as long as she helps him destroy the others.
At the loft, Stefan shows up and surprises Elena. He explains to her that Samantha was put on a suicide watch in which all of her jewelry and personal belongings were removed. Elena realizes that even without the ring, Alaric is still dangerous.
Searching through Alaric's drawers, Elena comes upon pictures of all of the council member murders. They also discover a folder with Jeremy's name on it. Inside was a note from Alaric to Jeremy asking him to carry on his work. They also see a list of council members and realize it was a hit list. Finding the ring, they both head home.
After waking from a nap, Alaric sees Meredith making coffee. He reaches into his bag and pulls out a needle. Once in the kitchen, Alaric reaches for a sharp butcher knife. Alaric asks her if she ever felt any remorse. Not understanding, Meredith turns around and sees him standing there with a knife.
Alaric lunges forward to plunges the knife into her side. Pouring hot coffee on him, Meredith runs for the stairs and locks herself up in the bathroom. Seeing her wound, Meredith collapses to the floor.
Damon arrives at the Wickery Bridge and is not too happy to see it completely engulfed in flames. Seeing Rebecca there, she tells him sorry that his little plan was all ruined now.
Seeing Sage there, he confronts her. Sage tells him that he lied to her and didn't tell her that all of the originals were linked. If one died, they all died.
Stefan and Elena arrive home to a quiet house. Stefan hides when Alaric descends the stairs. Noticing the bandage hand, Alaric tells her that he cut himself when he tried to clean up a broken coffee cup.
Looking down, he sees the bloody knife. Elena follows his eyes and soon becomes frightened. Before Alaric has a chance to attack Elena, Stefan steps up behind him and knocks him out.
Sensing something was wrong, Stefan and Elena head upstairs. Opening up the bathroom door, they see Meredith laying there. Working quick, Stefan cuts open his wrist and feeds it to Meredith.
Later, Bonnie enters the kitchen and gives Elena the jar of herbs that Alaric needed to take twice a day. Apologizing again, Elena hugs Bonnie and Bonnie soon forgives her.
After helping in the herb garden with Jamey, Caroline heads into the house and finds Abby writing a goodbye letter to Bonnie. Caroline tries to convince her to stay but Abby refuses to listen and feels it is best to leave.
Entering the den carrying a large package, Damon sees Stefan enjoying a cocktail. After removing the paper, Damon unveils the new Wickery Bridge sign Alaric made. Looking at it, Stefan realizes it that the sign was also made from the old oak tree. They still had a chance to kill the originals.