Season 2 » As I Lay Dying
The Vampire Diaries Season 2 Episode 22 Synopsis, Pictures & Soundtrack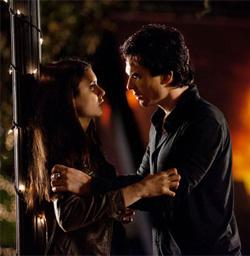 After checking in on Jeremy, Elena stops by Jenna's quiet room and looks around at the unused bed, knowing that Jenna will never sleep there again. Shutting the door, Elena turns around and sees Damon standing there. With a look of desperation, Damon tries to apologize to Elena. Telling him that she needs time, Damon soon leaves.
Returning home, Damon pours himself a large glass of whisky. After taking a big drink, Damon pulls open the drapes, allowing the bright sun to fill the room. Damon takes his ring off and steps into the sun. Before the sun has a chance to fatally burn him, Stefan arrives and pushes him out of the sunlight. He tells Damon that he will not let him die and he will find a cure. Not trusting Damon in is suicidal state, Stefan locks him up in the cellar.
In the woods, Elijah patiently waits while Klaus dresses after a long night of being a werewolf. Elijah once again reminds Klaus of their bargain and asks for the location of their families bodies. Telling him he will be reunited soon enough, the two head back to town.
Down at the Mystic Grill, Alaric tries hard to drowned his sadness of missing Jenna with whisky. Receiving a call from Stefan puts an end to his drinking and he heads to the Salvatore home to watch over Damon.
Trying to cheer Jeremy up and get him out of the house, Elena brings him to the park. There, the community is having a viewing of the classic movie "Gone With The Wind". Soon Caroline also shows up with a stocked picnic basket.
Stefan convinces Bonnie to try and contact the spirits of the witches to find a cure for Damon. Soon, Bonnie begins to chant and she channels Emily. Stefan speaks to Emily and begs her for the cure but she refuses. Bonnie grabs her head and pain and tells Stefan that they do not want to help Damon but there was a name that came up and it was Klaus.
Stefan arrives at the park and pulls Elena aside. He explains to her that Damon was bitten by Tyler and was dying from the bite. She is not happy when he tells her that he has to find Klaus in order to help Damon.
Stopping buy Alaric's apartment, Stefan discovers a very irritated Katherine waiting for him. She quickly pulls him aside when Klaus and Elijah soon arrive. Stepping out of hiding, Stefan asks Klaus for his help in curing Damon. Klaus informs him that he first needed to help Elijah. Turning around, he quickly plunges a dagger into Elijah's chest. Elijah falls to the ground.
Seeing this, Stefan tells Klaus that he will do anything he wants if he helps Damon. Klaus hands him a bag of blood and demands that he drinks it all. After finishing the bag, Stefan tells him he won't drink anymore until he tells him the cure. Dragging Katherine over, Klaus bites her on her wrist. Katherine screams out when she sees the fatal werewolf bite. Biting open his wrist, he has Katherine drink from it and her bite quickly heals up.
Alaric shows up in the cellar and brings a bottle of whisky and Damon's ring. Pouring Damon a large glass of whisky, Alaric tries to keep Damon company. Outside, Elena arrives but is soon pulled to the side by Sherriff Forbes. Alaric heads to the fridge to retrieve a bag of blood for Damon. Turning around, he is surprised to see Sherriff Forbes pointing a gun at him. He tries to warn her that Damon was ill but she heads into his cell anyways. Within seconds, Damon had knocked out the Sherriff and escapes.
Alaric calls Jeremy to keep a look out for Damon at the park. Jeremy soon spots Damon and tries to help him. The two head off to the Mystic Grill. Sherriff Forbes also discovers that they are at the Grill and heads over after locking Elena up.
Arriving at the Grill, Jeremy calls Alaric to tell him where they were. Damon looks up and sees Sherriff Forbes getting ready to fire. He quickly moves and the bullet hits Jeremy in the chest instead. Jeremy collapses.
Bonnie and Caroline quickly arrive and run to Jeremy's lifeless body. Caroline opens up her wrist and tries desperately to get him to drink but it was too late. Through tears, Bonnie instructs Alaric to bring Jeremy's body to the old mansion.
Once there, Bonnie once again calls on the spirits of the witches to help her. Before they help, they inform her that there will be consequences if she does this. Meeting with resistance, Bonnie cries out for help and tells them she loves him. This seems to work because she sees Jeremy open up his eyes and be healed from the gunshot wound.
Elena throws a chair through the window and escapes the Sherriff's office. Arriving at the park, she is relieved to see Damon. Damon on the other hand is not doing well and begins to hallucinate that Elena was Katherine. Reaching for her, he bites her neck and begins to drink hungrily. Trying to tell Damon she was Elena and not Katherine, this finally works and he lets her go.
Elena brings him home and puts him in his bed. Damon tries with no success to have her leave but Elena refuses and stays put. Laying next to him, Elena tries to make his final moments pleasant. Damon begins to apologize for all that he had done and expresses to her that he loves her.
After several bags of blood, Stefan finally agrees to Klaus's bargain and he will leave with Klaus and serve him. Feeling somewhat happy, Klaus hands the bottle of blood to Katherine to bring to Damon. Katherine immediately leaves for Damon's home.
laying in Damon's arms, Elena holds him close as his body is being ravaged by the bite. The moment after he expresses to Elena that he loves her, Katherine appears. She hands the bottle of blood over to him he drinks it all. He instantly begins to feel better. Elena turns to Katherine and asks her where Stefan was. Katherine tells Elena that Stefan had turned himself over to Klaus in order to get the cure. Before walking out, Katherine tells Elena that is was ok to love them both because she did.
After dealing with Elijah's body, Klaus pulls forward an innocent woman. Making sure their bargain will be honored, Klaus demands that Stefan hunt the woman down and drink her blood. The woman sets off running but because of his super speed, Stefan quickly catches her. Bending down, Stefan hungrily drinks from her. When his head comes up, he has the look of a monster on his face.
Jeremy wakes up later after his chat with Bonnie. He tells her that he was feeling different since coming back from the dead. Jeremy steps out of his room when he sees a shadow. Trying to see who it is, Jeremy proceeds downstairs. Not seeing anyone, he turns around and sees Anna. Surprising him even further, he turns to the other side and sees Vicky standing there also.