Cast & Characters » Damon Salvatore – Ian Somerhalder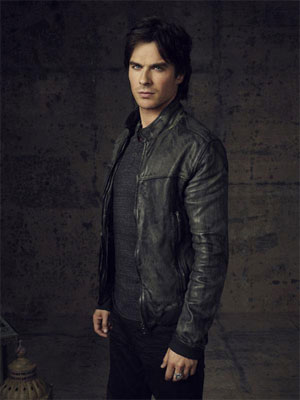 Damon is the brother of Stefan, and both are vampires. He is handsome and charming, but has a very dark side. Unlike his younger brother, Damon enjoys violence and brutality and takes great pleasure in being evil and wreaking havoc.
Damon is also in love with Elena, who is with Stefan. So he has been slowly trying to change to be more of what Elena is looking for, but still keeping his darkness and always trying to keep her safe.
Ian Somerhalder
Ian Somerhalder potrays Damon Salvatore on Vampire Diairies. Born and raised in Covington, LA, Ian took part in the school drama club and the local theater group. He began modeling at the age of ten and has modeled for Calven Klein, Gucci, Guess, and others. His modeling led to acting and Ian is well known for his role as Boone on the TV series Lost.
Birthday: December 8, 1978
Ian Somerhalder on Twitter