Vampire Diaries Spoiler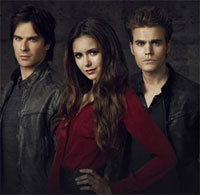 Nina Dobrev gave E! Online a little Elena scoop:
Melanie in Rockford, Ill.: Don't care about Damon and Stefan…I wanna know about my Queen Elena on TVD!
If you're ready for Elena to start taking control of her life, then season four is the season for you, my friend. "This season is really intense, for me especially because I am a vampire," Nina Dobrev tells us. "I'm getting to kick some more ass. Elena is becoming a tough cookie. Before she used to talk about being independent, and now she has a chance to be." Sounds like Elena is going to be a bit more Katherine-esque this season.