Julie Plecs Talks Last Night's Shocking Midseason Finale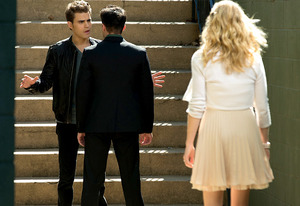 Got a few interviews here for you with The Vampire Diaries producer Julie Plec talking about last night's amazing midseason finale.
Just click on the links below to check out the interviews.
READERS BEWARE:
If you HAVE NOT seen last night's episode yet avoid the interviews at all cost!
TV Guide: Vampire Diaries Boss on a Bloody Midseason Finale, Repercussions, the Sire Bond and More!
TV Line: Post Mortem: Vampire Diaries Boss on the Big Death, Elena and Damon's Struggles and More!
Hollywood.com: 'Vampire Diaries' Boss Talks Klaus' Holiday Massacre, the Sire Bond and More