Spoilers!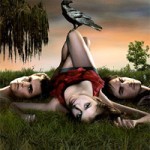 Spoiler via TV Guide:

Will Elena ever admit to the chemistry she and Damon share on The Vampire Diaries? — Laura
NATALIE: She may not, but her friends will certainly catch on to their budding passions. In fact, executive producer Julie Plec says that the big "elephant in the room" hasn't gone unnoticed and soon enough, "her friends and loved ones are going to be like, 'What's going on there?'"
Spoilers via E! Online:

@mannionh: Tyler and Caroline on The Vampire Diaries please??
We know a vampire and werewolf hooking up is what created Klaus (Joseph Morgan), eventual hybrid extraordinaire. We also know vamp Caroline (Candice Accola) and wolf Tyler (Michael Trevino) recently hooked up, so where does that leave our favorite TVD couple? "We've said two things on our show, very clearly. Vampires can't procreate and yet, vampires' bodies work like anybody else's," Julie says. "Door's open to take either rule."

@xMelissaR04: VAMPIRE DIARIES PLEASEEE! After last weeks episode im DYING!!
You and us both, sister. Guess what? It gets even better as a fan favorite (and our personal favorite) is set to return. "Right now, we're about to start shooting an episode that takes us back to the origins story of the Original family," Julie Plec says. "We will see Elijah (Daniel Gillies) again." Wheeeee! While we probably won't meet all the Originals, the show is reportedly looking to introduce the Original mommy. Double wheeeee!

Spoilers via TV Line:

Question: Any inside gossip on The Vampire Diaries? —Bridii
Ausiello: Rumor has it the Oct. 13 episode, "The Reckoning," is going to be E-P-I-C. Basically, Klaus goes totally off the rails and no one is safe — especially not Elena, Stefan and Tyler.
Question: Any Vampire Diaries scoop concerning Caroline? —Jo
Ausiello: Dying to see Caroline kick Damon's ass? Then this Thursday's episode is for you!