Cast Members speculate Season 3 Details with Zap2It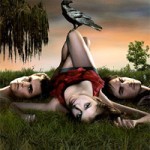 Cast members speculate what will happen in season 3 over at Zap2It.
Here is an excerpt:
Tyler and Caroline are soooo Romeo and Juliet. We saw some tension brewing between Mayor Carol Lockwood and Sheriff Liz Forbes in the Season 2 finale, and word has it that the bad blood will lead to a full-on feud in Season 3… leaving Tyler and Caroline's burgeoning romance hanging in the balance! Candice Accola told HollywoodLife that Caroline "has a very comfortable chemistry with Tyler. She can just sit there and be a mess and be completely comfortable." We can't wait to see the relationship between these two develop. (Just make out already!)
Check it all out here.