The Vampire Diaries Contest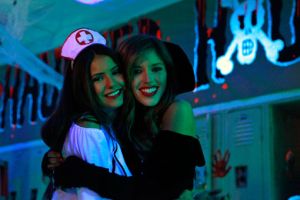 Buddy TV is having a contest.
Below is what you can win and details on the contest from Buddy TV:

Each treat bag includes:
* A Trick-or-Treat bag
* Candy
* Bumper Sticker
* The Vampire Diaries book
* The Vampire Diaries T-Shirt
Want to find out how you can win? Keep on reading.
Step 1: Be sure to watch the new The Vampire Diaries episode "Haunted" on Thursday night at 8pm on The CW.
Step 2: On Friday, October 30 log on to Twitter.com and make sure you're following @BTV_VampDiaries. (BuddyTV's The Vampire Diaries twitter account) At 2:30pm PST we will start tweeting out five questions from the episode. The first two people to tweet @BTV_VampDiaries all five answers correctly wins.
Note: You may answer each question separately. No need to wait for all five questions to be tweeted.
Step 3: Winners will be announced on Twitter and will receive a Direct Message with further information. Keep in mind, this contest is open to US residents only. If you have any other questions feel free to tweet them to us.
Go to Buddy TV to read the article and get all the information.