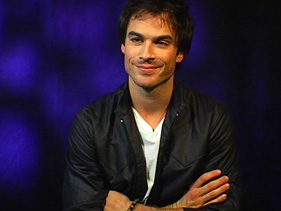 MTV has an article talking about Ian Somerhalder's new movie Cradlewood.
Read the entire article here.
Here is an excerpt from the article talking about the movie:

Described as a romantic gothic fairy tale, "Cradlewood" follows a man (Somerhalder) threatened by a family curse. Thanks to an old deal with a demon, every male in his family dies as soon as he begets a son. In the movie, which was conceived and will be directed by visual effects artist Harry Weinmann ("Race to Witch Mountain"), Somerhalder's character suspects that his wife is pregnant and he resolves to do what he can to stay alive.

Vampire Diaries and Vampire Diaries T-Shirts
Moviehole has an article talking about Ian Somerhalder's newest movie role in Cradlewood.
Here is a synopsis of the movie from Moviehole:
Beck may have found the perfect man in Josh. Handsome, artistic, young, rich and taking her to meet his mother, Irene, at the family home of Cradlewood. But Josh is more than rich; Josh is heir to a fortune. A fortune steeped in history and around which swirls a fog of family tales and legends. And which one day soon will be all Josh's. But something goes wrong and Beck has to watch as her loved one descends into a dark madness of paranoia and fear. Will Beck be able to help Josh escape from his destiny or will she be dragged down into his torment with him?