Diaries Spoilers for the New Year!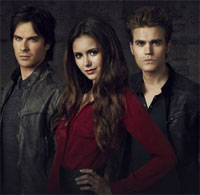 TV Guide has some Tyler scoop:
How will Tyler react to Klaus killing his friends and mother on The Vampire Diaries? — Sarah
NATALIE: Not well. But don't expect him to go cry about it. "Tyler's not going to stand and take it," Michael Trevino tells us. "It's the realization that he had his one chance of attacking Klaus and that didn't work, which is disheartening, [but now] he has to go for broke and figure out a way to do it, whether it's gathering people to align with again or going at it by himself."
_________________________________________________________________________________________________________________________
TV Line has the scoop on what has happened so far this season on The Vampire Dairies and what the rest of the season holds:
PREVIOUSLY ON… | After learning about Tyler's rebellion, Klaus slaughtered all 12 hybrids and drowned Mrs. Lockwood in retaliation. Elsewhere, Damon set Elena free (kind of), April uncovered the staked Rebekah, and Bonnie, Damon and Professor Shane attempted to get Jeremy past his little "I want to kill my vampire sister" problem.
COMING UP NEXT | Tyler will be reeling from the loss of his last remaining family member by "keeping to himself, refusing to show his emotions and stewing in his own grief and anger, which is making it difficult to help him," teases executive producer Julie Plec. Despite Klaus' terrible doings, the EP "wouldn't say it's the last we've seen of a connection between" the Original and Tyler's girl Caroline. Though, "It's the last that she's going to want a connection between them." On the Damon/Elena front, he picked his words carefully and told Elena to go home, not to never think of him again, so expect "lots of sad longing…between the two." Meanwhile, neither April nor Rebekah will take lightly to being lied to or betrayed. (The latter, in particular, will seek revenge against Stefan.) And Jeremy gets an unexpected vampire hunter mentor in Damon!