Enter our giveaway to be the lucky winner of a $25 gift card to Cafepress. To enter, all you have to do is use the entry form on our toolbar which is located under the "win" button. The toolbar includes news feeds from Vampire Diaries Guide and our other popular sites, graphics, widgets, games, and links to social networks, video and music sites. Don't have our toolbar? You can learn more about it here or download it.
You can use the gift card towards all the cool fan-made Vampire Diaries t-shirts & gifts at CafePress. Check them out here.
NOTE: Giveaway is open to EVERYONE. Limit 1 entry per email address.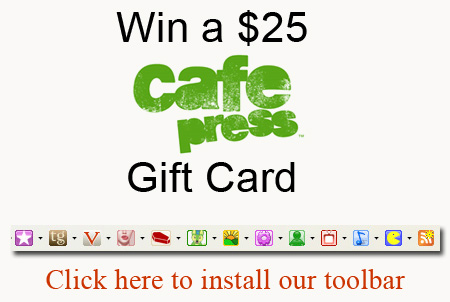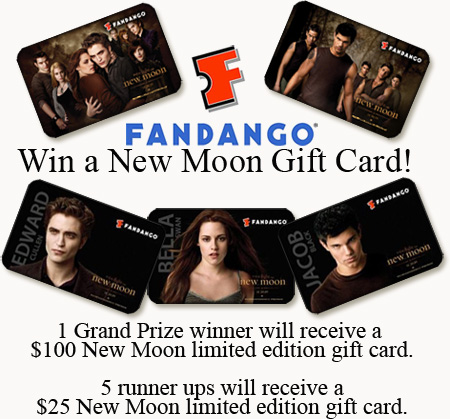 Here's your chance to win a limited edition New Moon gift card from Fandango. You could be the Grand Prize winner who will receive a $100 New Moon limited edition gift card or you could win one of five $25 New Moon limited edition gift cards. I know they don't have images of Stefan and Damon, but they do have cool pics of Twilight vampires and characters. Visit Twilight Guide for Twilight New Moon movie news.
If you don't want to wait, New Moon limited edition cards are also available for purchase. You can get them in values from $10 up to $100. They make a perfect gift and are good for any movie, anytime on Fandango. Check them all out here.
The Giveaway is open to U.S. residents and will run from 11/2/09 through 11/20/09. Limit one entry per email address.
Please click "read the rest of this entry" for the entry form.
(read more…)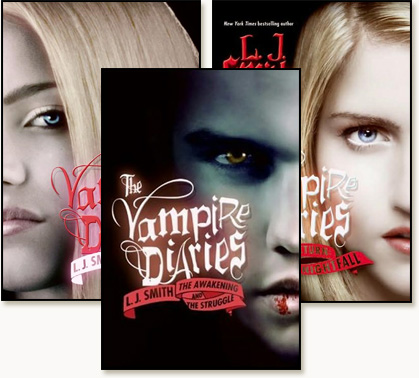 Win The Vampire Diaries book series. To celebrate the launch of Vampire Diaries Guide we are giving away The Awakening and The Struggle, The Fury and Dark Reunion, and The Return: Nightfall to a lucky winner. All you have to do is enter your name and email for a chance to win. You can learn more about the books at Amazon.
The giveaway is open to U.S. residents. Limit 1 entry per email address.
Please click "Read the rest of this entry »" below for the entry form.
(read more…)