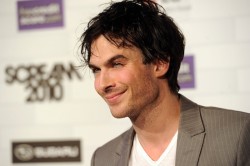 Zap2it has an interview with Ian Somerhalder.
Check it all out here.
Here is an excerpt:
The first time I spoke with "The Vampire Diaries" star Ian Somerhalder, he was still reeling from the shock of B.P.'s oil rig, the Deepwater Horizon, exploding off the coast of his Louisiana home. At the time, he was somewhat reluctant to use his celebrity as a platform for a cause. "I never wanted to be one of those actors with a political agenda," he told me.
Now, only six months later, Somerhalder proudly announces his newest project, The Ian Somerhalder Foundation. The Foundation, which has applied for official 501(c)(3) status from the IRS, seeks to educate youth on a global level to put the power of change in the hands of the young generation.