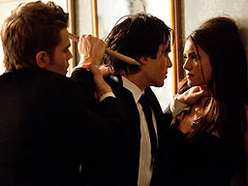 The Toronto Sun has an interview with Nina Dobrev.
Check it all out here.
Here is an excerpt:

Nina Dobrev personally is making sure nothing gets lost in translation on The Vampire Diaries.
With a little help from her mom, that is.
Dobrev and her mother worked on the Bulgarian dialogue that was used in the most recent new episode to air (Nov. 11). The 21-year-old Dobrev is Bulgarian-Canadian, having been born in Bulgaria but raised in Toronto.
"I called my mom, and she and I translated it," Dobrev said of the Bulgarian dialogue in the episode titled Katerina.
"I think the writers had used an internet translator and it was so funny. All those online translators are never right. So we did it. I translated my own dialogue, but I called my mom just to confirm I was right.