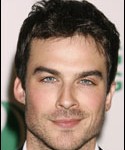 Variety has an article with news on new cast members for The Vampire Diaries.
Here is the latest news from Variety:
Ian Somerhalder is set to play Damon, a smug vampire who can go from playful to evil in a split second.
Also joining the cast are Zach Roerig  who will play the jock Matt, and Kayla Ewel who will play Matt's sister.
Read the entire article at Variety.