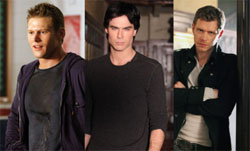 Ology has an interview with Ian Somerhalder, Zach Roerig and Joseph Morgan.
Check it all out here.
Here is an excerpt:

To nitpick a bit, when Elena confesses to Stefan about the Damon-Elena kiss, she specifically says "I kissed Damon", and not what it actually was, which was Damon making the move.
IAN: She doesn't even say 'I kissed him back'… she was just being honest. I think that she just wanted to be honest, because no one in Mystic Falls is honest. There's so much 'whodunit', and everyone's got a hidden agenda. I just don't think she wanted to do that.

JOSEPH (to Ian): You think she was trying to hurt him?

IAN: Probably, yeah, but she was also… Elena's not even that manipulative, I think she was just trying to say "Look, this happened." And also, [she wanted] to see what his reaction would be, which was… you know. (Ian makes a fart sound)

ZACH: I think Elena's also just ready to be loved. She's just so ready to be taken care of.