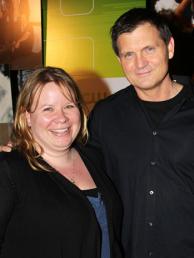 The Hollywood Reporter has an interview with Kevin Williamson and Julie Plec.
Check it all out here.
Here is an excerpt:
"One of the first things that I want to see is Klaus, and where is he and where is he with Stefan and what are they up to," Plec told THR while in San Diego. "As we sit here, we're shooting that scene right now at a very, very, very rural farmhouse out in the middle of nowhere. And it's the opening of the season. That's all I can say: Farmhouse in the middle of nowhere. Dark. Hot."
"It's the scene in the teaser: Damon dies," Williamson joked.
But back to the serious stuff. "We have an opening that's been inspired by our pilot opening sequence and other things," Plec said coyly.