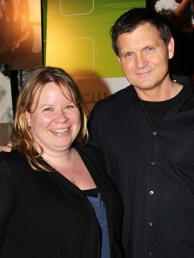 The Hollywood Reporter has an interview with Kevin Williamson and Julie Plec.
Check it all out here.
Here is an excerpt:
When we last left off with the folks in Mystic Falls, Damon was on his deathbed, Stefan went back to the dark side with Klaus, Elena's relationship/friend with Damon may have evolved and Jeremy had visions of his ex-lovers. And that's not even the half of it.
"We wanted to both end the story that we were telling this season and also give the audience a sense of what was going to be coming up and how everything was going to shift and change," Plec told THR while in San Diego of the show's second season finale.