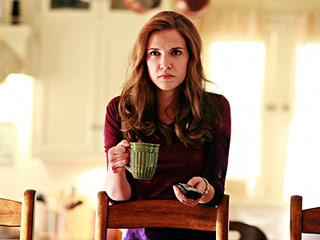 The EW has an interview with Sara Canning. She talks about her character.
Check it all out here.
Here is an excerpt:

The actress who plays Jenna, Elena and Jeremy's aunt, says a significant storyline is on the horizon for the character. Will it involve her finally finding out that vampires, werewolves, and witches have been in her house? Okay, that she still can't say. "Truthfully, I have no idea," she admits. "I've gotten that feeling before and it hasn't come to fruition. They say, 'It could happen in two episodes, or it could happen in two seasons." (That, we can confirm: Exec producers Kevin Williamson and Julie Plec will tell you they change their minds about when Jenna and Zach Roerig's Matt will finally join The Knowing on a week-to-week basis.