Wednesday, September 7, 2011
Spoilers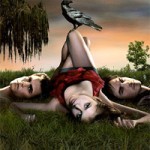 Spoiler via TV Guide:

Anything juicy on Ripper Stefan on The Vampire Diaries? Thanks! — Val, via Twitter
NATALIE: Juicy is a choice word, Val. Stefan will be sinking his teeth into many humans. "He gets deeper and deeper and the blood starts carrying him away," Paul Wesley tells us. "He commits to that lifestyle because the blood starts turning him into someone else." What we want to know is, who's going to bring him back?
Spoiler via TV Line:
Question: Do you have any scoop on whether Jack Coleman is playing Caroline's dad on Vampire Diaries? —Elsa
Ausiello: That's what I keep hearing, but I have no official confirmation of that. Makes perfect sense, right?