According to the EW Jason Dohring, Lawrence Kao and Oliver Ackland are all joining the cast of The Originals for their third season.
Jason Dohring will be a recurring character in season 3 of the show as Detective Kinney. He is described as a confident man who has a clear sense of right and wrong. He is determined to bring the bad guys to justice, but he's unaware of the supernatural side of New Orleans. He will makes his first appearance in the season 3 premiere.
Lawrence Kao will be playing Van, a handsome, stubborn witch who has always stayed out of coven politics. When tragedy strikes, he finds himself inescapably drawn into the beginnings of a war. He is scheduled to be a recurring character and will make his debut in season 3 episode 2.
Oliver Ackland will be playing a character named Tristan, a handsome and mysterious vampire who has a long and complicated history with the Original siblings. According to his character description he is "charming and worldly, a man born into such wealth and power that he carries with him the cool assurance of his own superiority". With those he loves, he can be equal parts warm and caring, obsessive and co-dependent. But with his enemies, he is cruel and completely merciless. He is also scheduled to be a recurring character and will make his debut in season 3 episode 2.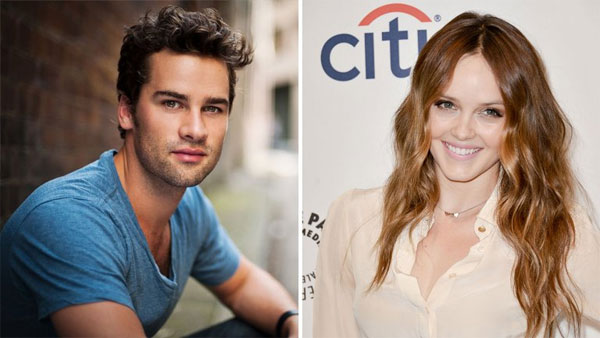 Andrew Lees and Rebecca Breeds will be joining the cast of The Originals. Both will be making their debut in the shows season 3 premiere. Below is information on the characters from THR.
Lees will play Lucien, a member of Klaus' sire line who comes to New Orleans with a secret agenda involving Klaus. He's described as intelligent, charming, wildly successful and at ease with princes and paupers alike. He prides himself on being two steps ahead of everyone else.
Breeds will play the enigmatic Aurora, who is described as sexy, seductive, witty and free-spirited — the life of the party. However, she also has a dark side, and is also known for being malevolent, dangerous and extremely violent.
Three females have been cast as villains in season 7 of The Vampire Diaries. Valerie, Mary Louise and Nora are three very nasty girls who were released from the prison world in the season 6 finale of the show. Elizabeth Blackmore, Scarlett Byrne and Teressa Liane are the actresses who will be playing these evil heretics.
All three will make their debut in the season 7 premiere.
Learn more about their characters at EW.
Mystic Falls will be seeing even more new faces when season 7 of The Vampire Diaries premieres. Justice Leak and Jaiden Kaine are joining the cast in possible recurring roles and will make their debut in episode 1. Below is info on their characters from EW.
Leak will play Malcolm the clean-cut eldest heretic who doesn't like being told no. Within his small family he's a golden child. But when he's alone, he has the sneering, aloof air of somebody who's been alive a very long time—with no fear of death.
Kaine will play Beau, a scary, solemn and dangerous man. He's the strong, silent type, but not by choice—his vocal cords have been slashed, his throat forever scarred. But what he lacks in words, he makes up for in presence, with supernatural powers to match and an unbreakable loyalty to his heretic family.
The Vampire Diaries will return Thursday, October 8th at 8 p.m.
According to The Wrap actors Tim Kang and Todd Lasance have been cast in recurring roles on The Vampire Diaries.
Below is information on their characters:
Kang will play the role of Oscar, a laid back stoner who's been living the high life off the grid for months, hiding a surprising connection to the Salvatores. But Oscar's Zen lifestyle comes to a screeching halt when supernatural intervention turns him into a feral killer.
Lasance will take on the role of Julian, who's described as a feared, storied immortal with a reputation for excelling in earthly pleasures. Julian is pure charisma or pure creep, depending on whom you ask. The one thing he fears is anonymity, an unlikely outcome given that he's perpetually on the run, leaving chaos in his wake, and attracting even more dangerous followers.
Both actors are scheduled to make their debut in episode 3 of the shows seventh season.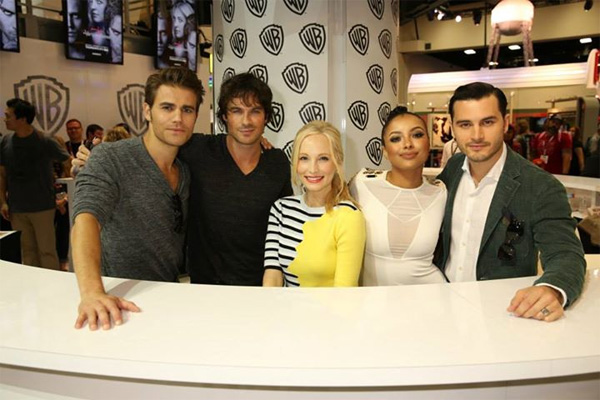 Head on over to the official facebook page of The Vampire Diaries to check out a bunch of great pics of the cast from the show signing autographs and posing for pics at this years Comic-Con in San Diego.