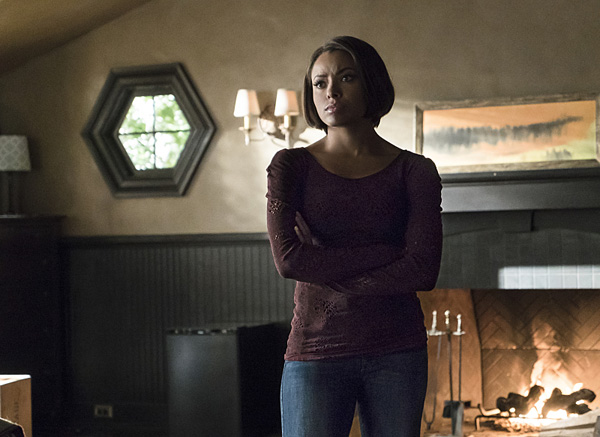 Got a couple interviews for you today with Kat Graham who plays Bonnie on The Vampire Diaries. She discusses Bonnie's relationships with Lily and Damon and the season finale. Just hit on the links below to see what she has to say.
TV Guide: Why The Vampire Diaries Finale Won't Be as Sad as You Expect
THR: 'The Vampire Diaries' Star Kat Graham on Bonnie's "Different Perspective"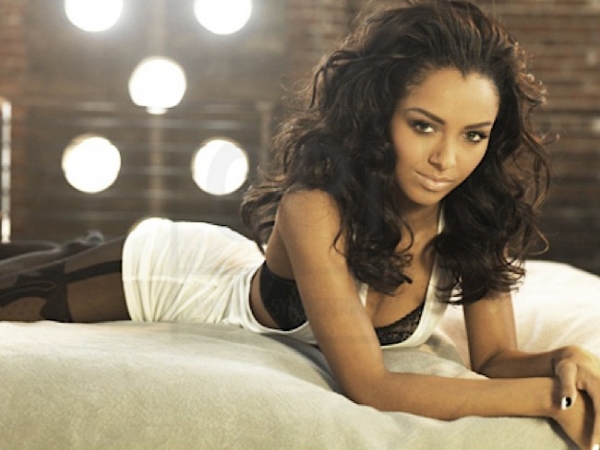 Fashion & Style has an article up listing five things you didn't know about Kat Graham. Head on over to their site to see what tidbits of information Kat revealed. Below is a taste.
Graham Hopes Bonnie Will Get A New Love Interest
Now that Jeremy Gilbert has left Mystic Falls in order to be a hunter, Graham said to Hollywood Life that she hopes Bonnie will eventually move on and fall in love with someone else.
The actress even joked that she submitted a list of potential love interests to the showrunners, but only time will tell if Bonnie will wind up dating someone new by the end of Season Six!
Kat Graham is the new face of Foster Grant for their 85th anniversary campaign and to help celebrate the editors sat down with the fashion forward actress for a little chat. She discusses her personal style, style icons, Pharrell, Rihanna and more.
See what she has to say over at Glamour.
Below is a sneak peek:
Glamour: Do you ever find yourself thinking, Oh, this is such a Bonnie outfit?
KG: Bonnie, the style, is so precious to me because it's so reserved for that character. If I started wearing those clothes I'd start behaving like her because for the past six years that's been the routine. So I don't even think consciously I'd be aware of it. I'm really into boho chic now, but in the Pharrell way [laughs]. The big hats, the button-down shirts, the oxfords…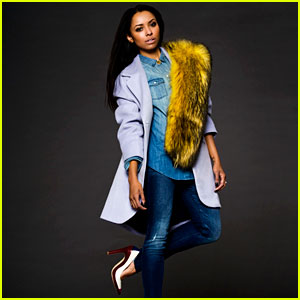 Kat Graham was featured as Just Jared's Spotlight of the Week. In the interview she talks about The Vampire Diaries, her upcoming wedding, her dog and more.
Read the entire interview here.
Below is an excerpt:
JJ: Do you have a funniest on-set moment from all the seasons that you've filmed Vampire Diaries so far?
KG: When I do those spells that aren't even in English. They're in this weird Latin. So Jasmine Guy (Grams on TVD) has to do them sometimes with me. We'll just start cracking up in the middle of it. When I have to do those spells, those are silliest ones. And then, obviously, I'm pretty clumsy, so I'm always falling. I walked into a pole the other day on set in front of all the extras and they laughed at me. (laughs) I've slipped on some of the stairs they [use] to go into this tomb that are all made of styrofoam. I was walking with Nina [Dobrev] and she's playing Katherine, and we're supposed to be walking down, like I'm supposed to be taking her, and we're going down to this tomb and I winded up slipping on the stairs, going thud, thud, thud, thud, thud, all the way down. And they have just caught it all. Yeah, I have really embarrassing moments. I walked into a wall, I mean, it's just all embarrassing.
TV Guide chatted with Kat Graham about Bonnie Bennett being back from the dead and it's consequences as well as more scoop.
See what she has to sat here.
Below is an excerpt:
So how is Bonnie feeling at the beginning of Thursday's episode?
Graham: It's very bittersweet. A lot of the characters have this bittersweet tone to their story lines right now. On one hand, she has Jeremy and her girlfriends back and on the other hand, she's the anchor and every supernatural being who dies has to pass through her and she has to have that agony. So you're going to see her start to find the good and the bad, and what it means for her. She considers herself still a witch, but her powers are gone. So for someone who constantly had to fix so many situations with her powers to have them no longer be active is really frustrating and complicated. But there will be a solution to needing magic sometime soon. There always is.
So happy Bonnie is back and already in the arms of Jeremy 🙂 Hope she can handle all the consequences that come with being the anchor.
Kat Graham talks season 5 of The Vampire Diaries including Bonnie's death, Silas, keeping secrets and more. Click on the interviews below to see what she has to say 🙂
Zap2it: 'The Vampire Diaries': Kat Graham dishes on Bonnie's death, the Other Side, why she's happy with her Season 5 story line, and more

TV Fanatic: The Vampire Diaries Scoop: Kat Graham Teases Conflict with Jeremy, Entering The Other Side
Alloy Entertainment: Kat Graham dishes on Bonnie's Secret, Potential Retaliation, and The Vampire Diaries Season 5
THR: 'Vampire Diaries': Kat Graham on Bonnie's Dilemma and Going Up Against Silas