Ian Somerhalder stopped by Access Hollywood Live to chat about The Vampire Diaries. He discusses the show, acting, the dedicated fans and more.
I've got two more clips for you from the all new episode of The Vampire Diaries on The CW at 8 pm on Thursday. The clips are from The CW and Access Hollywood.
In the first clip Tyler and the twins have a little chat. Looks like both the twins think what the rest of us do…Tyler is hot

In the second clip Elena and Caroline have a heart to heart then Elena uses peer pressure on her to get her to go to a party. Oh college days are so much fun!
Arielle Kebbel is back with the latest Vampire Diaries rehash. Join her on a recap of the last episode of the show titled, Yellow Ledbetter. Needless to say if you haven't seen this episode yet it would be advised that you didn't hit the play button above. Wouldn't want to spoil it for you

A new episode of The Originals airs tonight on the CW at 8 pm.
The episode is called Alive & Kicking.
Head on over to our episode guide to see stills and synopsis for the episode.
Head on over to our fansite for the show called The Originals Guide to stay up to date on all The Originals news!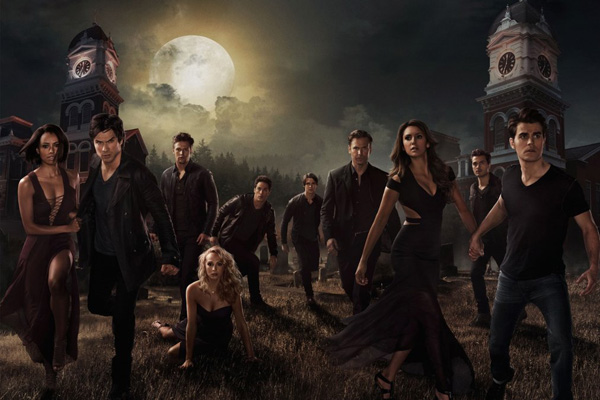 The CW has released a synopsis for episode 6.05 of The Vampire Diaries titled, The World Has Turned and Left Me Here. It's homecoming time so you just know some bad stuff is gonna go down. There is never a big event on this show that pretty much doesn't end up in disaster.
IT'S HOMECOMING — With Homecoming around the corner, Elena (Nina Dobrev) invites Liam (guest star Marco James) to attend a party at the corn maze with her. Instead of attending the homecoming festivities, Caroline (Candice Accola) is preoccupied after Stefan (Paul Wesley) shows up unexpectedly and needs her help cleaning up a mess created by Enzo (Michael Malarkey). Heeding Elena's advice to be more social, Alaric (Matt Davis) reluctantly attends the party, but a devastating accident quickly leaves him and Jo (guest star Jodi Lyn O'Keefe) rushing to save lives. Elsewhere, Tyler (Michael Trevino) finds himself in a dangerous position when his werewolf curse is put to the test, and an emotionally embattled Stefan comes clean to Caroline about his intent to move on from Mystic Falls. Lastly, Damon (Ian Somerhalder) and Bonnie (Kat Graham) make an important discovery that affects their quest to get back home.
Ian Somerhalder stopped by the show The Talk to chat about Damon and the new season of The Vampire Diaries. After a little chat the ladies of the show challenged him to a blindfolded taste test full of delicious surprises in their Mystery Game.