Parade caught up with Nina Dobrev to discuss what's coming up next for her character on the new season of The Vampire Diaries. She also chats about her new comedy movie, Lets Be Cops, dressing for the red carpet and more.
See what info she has to divulge here.
Below is a taste:
What do you want to see happen for Elena in the upcoming season?
"I don't know. I'd like to see how she copes and deals with things post-Damon and see how she's going to be able to move on and if she'll have a normal life. Everything in Elena's life is complicated, it's never easy, everyone's dying around her."
In what direction would you like to see Nina's character going in season 6?
Kat Graham is the new face of Foster Grant for their 85th anniversary campaign and to help celebrate the editors sat down with the fashion forward actress for a little chat. She discusses her personal style, style icons, Pharrell, Rihanna and more.
See what she has to say over at Glamour.
Below is a sneak peek:
Glamour: Do you ever find yourself thinking, Oh, this is such a Bonnie outfit?
KG: Bonnie, the style, is so precious to me because it's so reserved for that character. If I started wearing those clothes I'd start behaving like her because for the past six years that's been the routine. So I don't even think consciously I'd be aware of it. I'm really into boho chic now, but in the Pharrell way [laughs]. The big hats, the button-down shirts, the oxfords…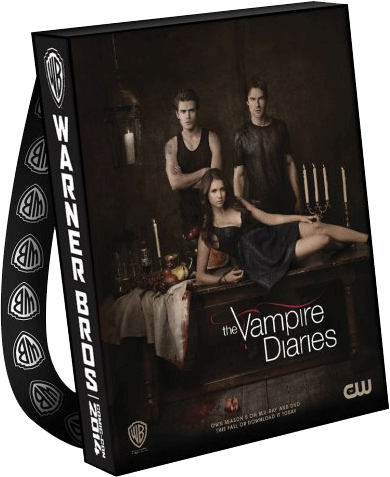 Every year at Comic Con Warner Bros has amazing bags they give away to advertise for the studio's TV series and upcoming movies. This year The Vampire Diaries is again one of the show's featured.
Above is what this year's bag looks like.
Don't you love it

With all the new residents coming to town Mystic Falls is gonna need to expand! Emily C. Chang will make her debut in The Vampire Diaries season 6 premiere. She will be playing the recurring character, Ivy.
According to THR, "Ivy, described as sweet and sincere, is the quintessential girl next door with an unexpected wild side".
Doesn't every "girl next door" have a hidden wild side?
Looks like Mystic Falls is getting a new doctor!
Actress Jodi Lyn O'Keefe is making her way to The Vampire Diaries in the season 6 premiere.
According to EW, "she will play Jo, "a tough and accomplished doctor at the university hospital. She demands excellence from her students and has learned the hard way that there's no room for error in her profession."
No word yet on how much we will be seeing of the new doc.
Actor Marco James has landed a recurring role on the upcoming season of The Vampire Diaries. He is scheduled to make his first appearance in the season 6 premiere of the show. (I wonder what is going on in this premiere because a lot of the new cast if showing up then.)
According to The Wrap, "he will be playing Liam, an attractive and smart upperclassman at Whitmore College. Described as cocky yet good-natured, he's a med student who comes from a family of doctors."
The Season 6 season premiere of The Vampire Diaries airs Thursday, October 2nd at 8pm.