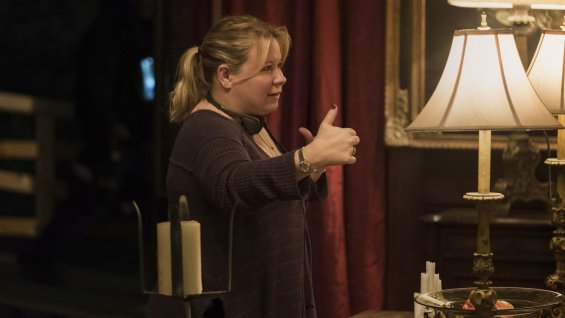 Julie Plec has been a producer and writer on various shows over the years including The Vampire Diaries and The Originals, but on tonight's episode she wears a new hat…director! Check out the interviews below to see what Julie has to say about The Vampire Diaries, writing, producing and now directing.
TV Line: Photo Diary: Director Julie Plec Goes Inside the Big Vampire Diaries Funeral
Zap2it: Why it was time for 'The Vampire Diaries' co-creator Julie Plec to direct an episode
THR: The Evolution of Julie Plec: From Development to Directing 'The Vampire Diaries'
Variety: 'The Vampire Diaries': Julie Plec Reveals Why She Was 'Terrified' for Directorial Debut
The CW has released still for Thursday's all new episode of The Vampire Diaries titled, Let Her Go. Lots of pics of Sheriff Forbes funeral and a pic of Bonnie. I'm gonna miss Liz so much

Got a couple clips for you from tomorrows all new episode of The Vampire Diaries titled, Let Her Go. In the first clip Damon is having trouble writing the eulogy for Liz. In the second clip Caroline tells Elena she kissed Stefan. Check out the second clip at E! Online.
Arielle Kebbel is back for the latest The Vampire Diaries rehash. Watch the video above for a recap of last week's emotional episode of the show titled, Stay. As always this video recaps the entire episode and is full of pesky spoilers. If you haven't seen the episode yet avoid this video!
Steven R. McQueen says goodbye to his fans in the video above.
Who is already missing him?
The CW has posted a trailer for the next all new episode of The Vampire Diaries titled, Let Her Go.
SPOILERS ahead for the latest episode
DO NOT READ if you haven't watched Thursdays episode yet!
I know this episode was to say goodbye to Jeremy, but damn! That episode felt like a finale with all the stuff that went down in the hour. Jeremy is gonna be vampire hunting and not going to school! Makes more sense, but that was one good twist. He will be missed.
Sheriff Forbes is gone


We all knew it was coming, but I still teared up a bit when Caroline said she was gone. I'm really gonna miss her. Plus that makes Matt the last human left from the main characters. I'm not counting Alaric because he's been a vampire and came back from the dead. Matt is the last one who has always been human.
And my fav OMG moment from the entire episode…STEROLINE KISSED!!!
It's about time that little couple finally locked lips. I can't wait to see where those two end up