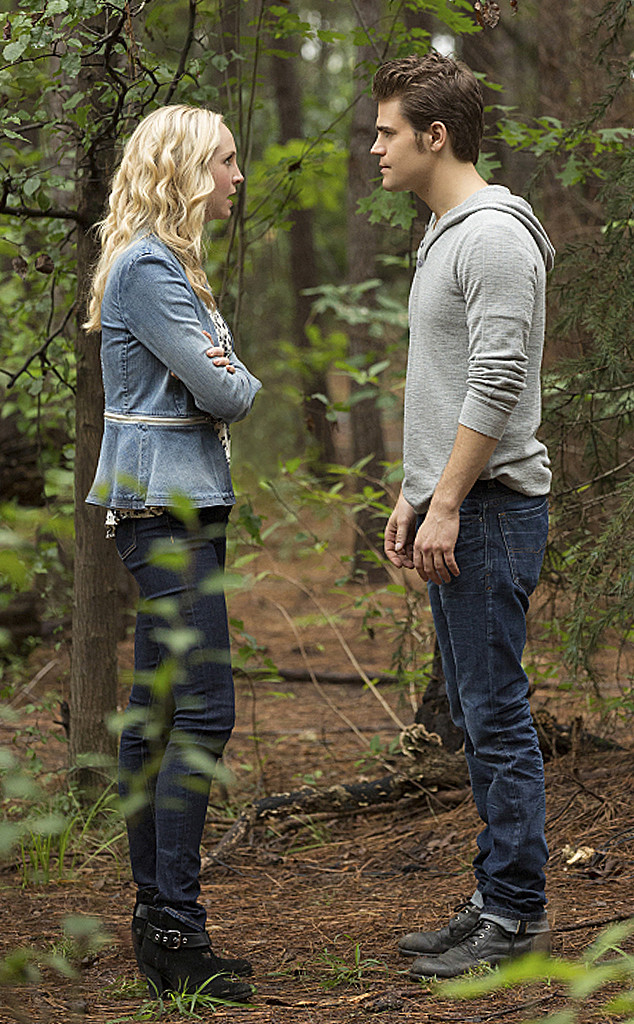 Got some very, very, very juicy spoilers for you below on tonight's mid-season finale of The Vampire Diaries. Read at your own risk!
Scoop via TV Guide:
Any scoop on The Vampire Diaries' midseason finale? — Amy
While much of the episode is about crazy Kai on the loose, the episode's big shocker doesn't involve him at all. Instead, look for some really bad news to bring two people closer than ever. On a slightly more positive note, the episode will feature one of the best scenes between the Salvatore brothers we've had in a long time.
Spoilers via E! Online:
Caitlin901: How many people are going to die in #TVD mid-season finale?
Prepare for a heartbreaking death to rock your world, people! "Dude, there's always deaths, there is a big one coming up, I will say that, there is a big one that's really going to break the people's hearts," Paul Wesley warned of an impending death on the hit CW series.
peaceloveeAngie: The Steroline fans are going crazy over this hug in the promo, can you tell us anything on that??? #SpoilerChat #TVD
Greedy fans that we are, we also asked Wesley for Stefan and Caroline scoop. His sentiment? Patience is a virtue. "There's some beautiful moments and I do think ultimately that something will happen. It's just a slow burn," he said.
The CW posted a clip for tonight's all new episode of The Vampire Diaries titled, Christmas Through Your Eyes. In the clip Caroline's mom comes to college to spread a little holiday cheer and perhaps get Stefan and Caroline together as friends again or more?!?
The Vampire Diaries executive producers Julie Plec and Caroline Dries give us an inside look at tonight's all new episode of the show titled, Christmas Through Your Eyes. Watch the video above to learn more about this season's mid-season finale.
Arielle Kebbel is back with this week's edition of The Vampire Diaries rehash. Watch the video above for a recap of last week's episode titled, I Alone. It's a complete recap of the episode so if you haven't watched it yet I would avert your eyes from the video above

This winter bundle up with The CW. After this week new episodes of all your favorite CW shows return on January 16th!
The CW has posted a trailer for the next all new episode of The Vampire Diaries titled, Christmas Through Your Eyes. Check out a synopsis and stills for the episode over at our episode guide.