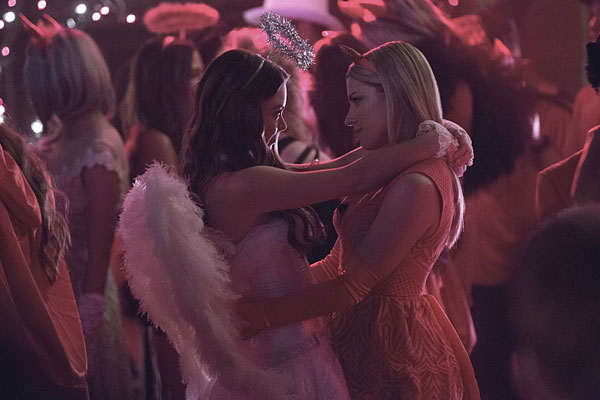 The CW has released stills and a synopsis for episode 7.04 of The Vampire Diaries titled, I Carry Your Heart With Me. The episode is scheduled to air on Thursday, October 29th. It's Halloween time and there's a giant party…we all know these things always end in bloodshed.
HEAVEN & HELL BALL — Just as Damon (Ian Somerhalder) thinks he's gained the upper hand in his fight against Lily (guest star Annie Wersching), an unexpected turn of events leaves him scrambling for a plan B. Elsewhere, when the fallout of Damon's actions gains the unwanted attention of Mary Louise (guest star Teressa Liane) and Nora (guest star Scarlett Byrne), Stefan (Paul Wesley) and Caroline (Candice King) are forced to spend the night distracting the girls at Whitmore College's Heaven & Hell ball. Finally, after suspecting that she's up to something, Enzo (Michael Malarkey) sets off on a mission to find out what Valerie (guest star Elizabeth Blackmore) is hiding, while a plan set by Alaric (Matt Davis) and Bonnie (Kat Graham) leaves their worlds turned upside down.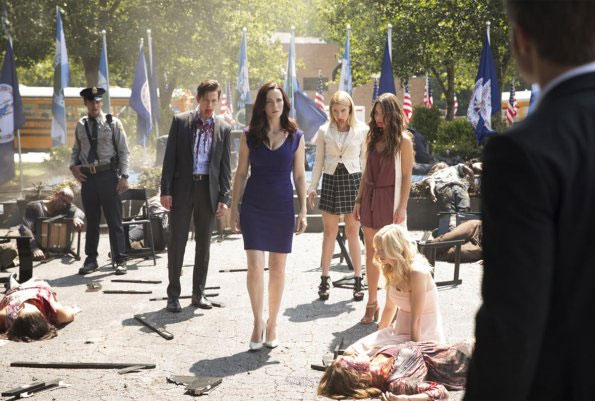 The Vampire Diaries premieres on Thursday, October 8th at 8 p.m. on The CW and TV Guide has our first stills from the episode. Lily Salvatore and her minions are out for blood and nobody is safe including our Mystic Falls supernatural team. Head on over to TV Guide for more stills and scoop on the premiere. As usual it seems Damon is dealing with all the chaos as he usually does by consuming massive amounts of alcohol by himself.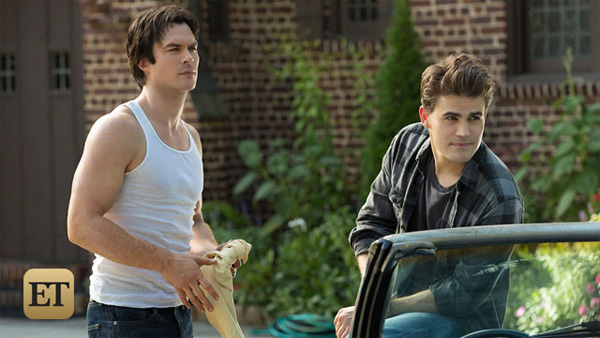 Oh how I miss the '90s!
In episode 4 of The Vampire Diaries this season we will be having a glorious flashback episode. This time we will get to spend some time with the Salvatore brothers in a '90s time-jump. According to the synopsis, you can read at our episode guide, this flashback may be the key to Bonnie and Damon's escape from the other side.
The episode is scheduled to air October 23rd and called Black Hole Sun.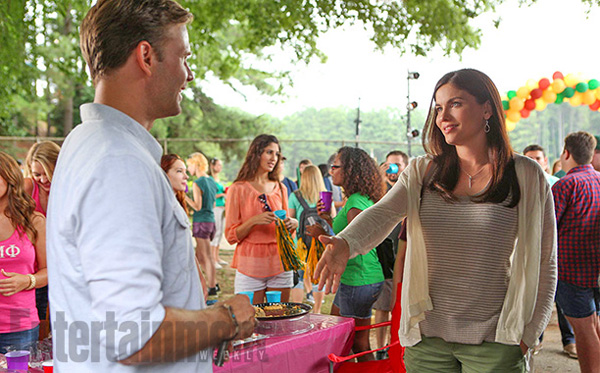 EW has our very first look at Jodi Lyn O'Keefe on The Vampire Diaries. She will be playing Jo, "a tough and accomplished doctor at the university hospital", who will make her debut in the season 6 premiere of the show. From the still it looks like she will be getting to know our beloved Alaric. Could Alaric find love again? Head on over to EW for more scoop on Jodi Lyn O'Keefe's character and what Alaric is up to when The Vampire Diaries returns.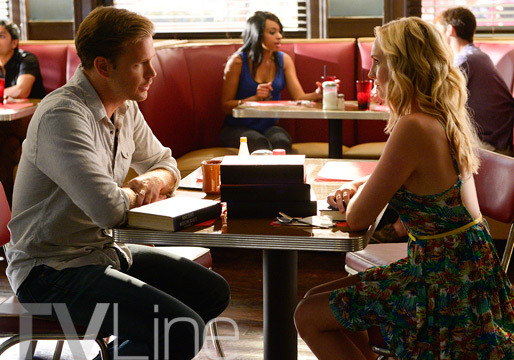 TV Line has some scoop on season 6 of The Vampire Diaries and our first look at the season. The still features Alaric (so glad he is back) and Caroline sitting down for a talk at a diner.
Executive producer Caroline Dries gave TV Line some scoop about what we will be seeing when the show returns in October. Looks like it picks up 4 months after the other side fell. Get the scoop here. Beware those pesky spoilers!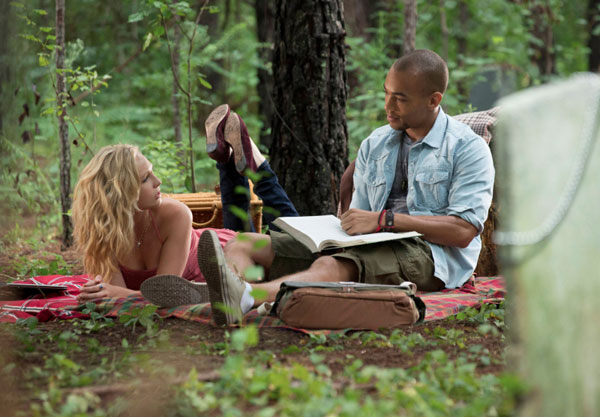 KSite TV has posted stills and a synopsis for episode 2.04 of The Vampire Diaries titled, For Whom The Bell Tolls. Check it all out below.
Synopsis:
REMEMBRANCE DAY — While Mystic Falls observes its traditional Remembrance Day to honor the dead, Damon (Ian Somerhalder) and Elena (Nina Dobrev) try to help Stefan (Paul Wesley) through a confusing time, a task that ends up taking Elena on an emotional journey of her own. A worried Matt (Zach Roerig) tries to figure out the reason behind his mysterious blackouts, and Caroline (Candice Accola) makes an effort to get to know Jesse (guest star Kendrick Sampson) better. Jeremy (Steven R. McQueen) makes a startling confession that hits Damon hard. Finally, Dr. Maxfield (guest star Rick Cosnett) puts a plan in motion that will change everything.