Julie Plec and Kevin Williamson Interview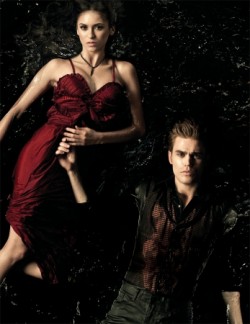 The TV Chick has an Interview with Julie Plec and Kevin Williamson.
Check it all out here.
Here is an excerpt:
SPOILERS

Can you talk a little bit more about the flashbacks that are coming up? Is there any chance we're going to go back any further than the 19th Century?
JP: Oh yeah. In fact, let's see, the episode that we start shooting on Tuesday is set, if I'm not mistaken, around 1490. We talked a little bit about that in the panel wanting to show Katherine's origin story, and it's cool.
KW: 1492 in Bulgaria. We go back in time and show a lot about how Katherine became who she was. We answer a lot of questions, basically. I don't know if anyone's interested about the doppelganger, or how did the line continue if it ended with her. She's the Petrova. We get into the Petrova line of it all. So we kind of go down that road and we sort of flashback to 1492 Bulgaria. We show how she started, where she went, why they wanted her, why she was necessary to the story of the vampires.