Delena and Mistletoe?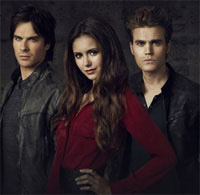 Julie Plec teases Delena, mistletoe and disappointment with TV Line:
Any scoop on Vampire Diaries' Damon and Elena??? I need it like a water in desert… — Enya
Drink up, Enya: Elena may have admitted to feeling a "glimmer" of love for Damon, but don't bank on a full-on reunion just yet, no matter how romantic the holiday season may be. Per executive producer Julie Plec, "There is mistletoe in the midseason finale, and fans are free to wish for anything they want — and also prepare for crushing disappointment in the way that we always tend to like to serve it to them." Take that as you will.