Vampire Diaries Character Spoilers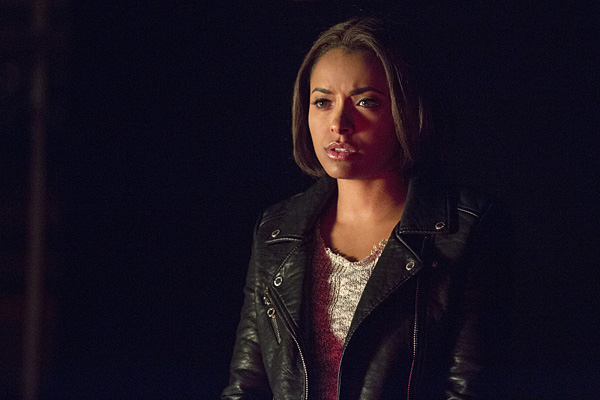 Got multiple spoilers for you on various characters on The Vampire Diaries. Get all the scoop below.
News via TV Guide:
Anything new on The Vampire Diaries? — Samantha
Expect Damon and Alaric's bromance to hit a serious speed bump when Damon angers Alaric. How serious is it? One word: fisticuffs! In other heartbreaking news, Bonnie, who has thus far stayed strong in her crazy situation, will be dealt another crushing blow that leads to a breakdown.
Scoop via TV Line:
Question: Damon found Bonnie's bear, anything else you can tease that's ahead for "Bamon" fans on The Vampire Diaries?- Renee
Ausiello: Let's just say you're not crazy for seeing a strong connection between Bonnie and Damon, Renee. Despite Elena expressing a "glimmer" of hope for a romantic reunion, Damon is still focused on the mission at hand: Bring back Bonnie. And Ian Somerhalder, for one, wouldn't be surprised if things turn spicy once the Bennett witch returns. "There's an extraordinarily thin line between love and hate," Somerhalder notes. "Due to the fact that these two hated each other, and had so many connections … it only seemed appropriate that they would be given a chance, due to the dynamics of their relationship."
Question: Do you have anything on my favorite Vampire Diaries character, Tyler? —Jeanette
Ausiello: What a coincidence, Jeanette, Tyler is one of Andy Swift's favorite TVD characters, too! (Definitely in the Top 20, at least.) Anyway, Michael Trevino says Liv's current dilemma will take up most of Tyler's time. "He's there for Liv and wants to protect her and make sure she's not getting into trouble," Trevino says. "She's being so tough and a little bitchy at times towards him. He's not used to that, so I like that Tyler's having to deal with that this season. But we will see their relationship become stronger. He's really smitten with that girl."