The Vampire Diaries Season 6 Premiere Post Mortem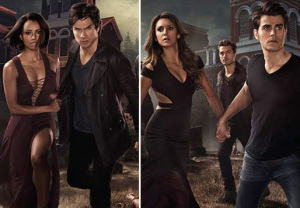 The season 6 premiere of The Vampire Diaries was quite the emotional roller coaster ride. I'm still feeling Elena's pain days later. And what was with that ending??? The Elena shocker and other side scene.
Executive producers Julie Plec and Caroline Dries as well as actress Nina Dobrev sat down with various news outlets to discuss the premiere and where the season goes from here.
Just click on the links below to see what they had to say. Spoilers for the future and SPOILERS for anyone who hasn't seen the season 6 premiere yet.
TV Line: Vampire Diaries Post Mortem: EP Talks Elena's Shocking Request, the Bonnie/Damon Mystery and More
TV Guide: The Vampire Diaries Boss Answers Our Biggest Burning Questions
E! Online: Wait, Where Are Damon and Bonnie on The Vampire Diaries?! Julie Plec Has a Clue-Finding Mission For You
EW: 'Vampire Diaries' post-mortem: Nina Dobrev on premiere twist, what's next