More Season 4 New Character Spoilers for The Vampire Diaries!!!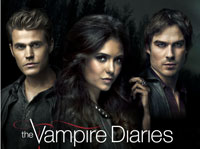 Got a couple pieces of scoop for you on new characters we will be seeing next season on The Vampire Diaries!!
Spoiler via E! Online:
Chloe: I am desperate for some new Vampire Diaries scoop! Please help!
Whoa, take a deep breath. Pretty soon you'll be lousy with TVD scoop, because the show and its stars are headed to Comic-Con next week! But because we love you so much, we'll tell you something now: there's a new vampire hunter in town next season! His name is Connor, and word on the street is that he'll be sticking around for awhile after he pops up in episode two.
————————————————————————————————————————-
Spoiler via TV Addict:

With so many rumors swirling around the new season of THE VAMPIRE DIARIES, I'm hoping you can offer up a little something for us die hard fans to sink our teeth into until the series' October return. — Monica
The TV Addict: Word on the street — and by 'street' we of course are referring to the tiny town that is Mystic Falls — is that a idealistic Pastor named Young will be picking up the torch from our dearly departed Alaric by enlisting the help of Meredith to rid Mystic Falls of the scourge that are vampires. Evidently, hell hath no fury like a Pastor scorn!