Spoilers!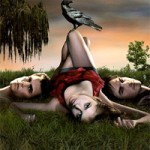 Spoiler via Zap2it:

"The Vampire Diaries":
Given Rebekah's knowledge of the 1920s, it's only natural that she help with planning the next decade dance… but Caroline might not be too pleased about that. "My favorite scene is between Caroline and Rebekah, when Rebekah decides that she wants to be part of the dance," Candice Accola tells us. "There's a really fun scene between them. I really like their cadence of dialogue. They don't like each other at all, but even though they can't stand each other, there's still an underlying current of mutual respect, which gives them great moments."

———————————————————————————————————————-
Spoiler via EW:
Hey Sandra. I've heard rumors about Klaus & Caroline dancing together at the decade dance, but I wanted to know if that's true or not. P.S. I'd love to play Draw Something with you. My username is [spoiler!] — Amy
Um, I'm SO there. Look forward to amazing art of the highest quality. (Not really.) As for your question… Joseph Morgan won't say for sure whether Klaus and Caroline share a spin around the dance floor. (After all, I imagine that's something jealous Tyler would want to stop at all costs.) But it sounds like there's a good chance, considering he was very careful about his word choice.
MORGAN: They will be on the same dance floor.
EW'S MANDI BIERLY: Dancing together?
MORGAN: [Laughs]
BIERLY: You're too good! I can't trick you.
MORGAN: [Laughs] Well, you know, I'm trying.
What he was a little more forthcoming about? The fact that Klaus isn't fazed when Tyler moseys back into Mystic Falls. "He doesn't think that Tyler is going to be any kind of competition for him, so I think really he's not taking that threat seriously at the moment," he says. "Klaus is gonna be looking to make some sort of connection with Caroline. The way he feels is, if he HAS to go to this dance, then obviously, she's gonna be the reason why he goes."
———————————————————————————————————————-
Spoiler via TV Line:
Question: Do you have any scoop on the finale of The Vampire Diaries? —Sara
Ausiello: Prepare for an "epic" hour of TV — Joseph Morgan's words, not mine. "It's going to be more dramatic than last year's finale," elaborates Klaus' portrayer. "Honestly, I've got goosebumps now thinking about it. Get ready, because the biggest thing we're going to get is a backlash at the end of it from people who are desperate to know what happens next. They're going to have to wait a long, long time [for Season 4], so I just urge everyone to get ready for the finale to end and go, "Oh my God! But what happens next?!" (And you guys call me a big tease!)