Ian Interview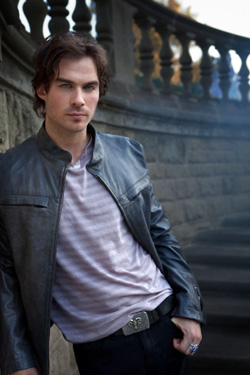 New York Magazine has an interview with Ian Somerhalder.
Read the entire interview here.
Here is an excerpt from the interview:

How did your role on Vampire Diaries come about?
I found out about the meeting about nine or ten o'clock — I was in Las Vegas — and I had to be there at 11 a.m. and I hadn't even read the material. So I literally taped my sides together and drove across the desert at, you know, five in the morning while my girlfriend slept. And that's how I worked on the material, driving, just memorizing. It's funny because that's exactly what I did for The Rules of Attraction many years ago. I remember that feeling of going, Wow, again I'm doing this.
Was there something about playing the evil brother that appealed to you?
Yeah, Damon has a lot of fun. Obviously we can deem him as evil by virtue of his actions, but going further and not judging him for them [laughs], I've never really played anyone who was that fun. There's something about showing up to work every day and not taking yourself so seriously — there's a certain amount of levity that comes with that. And it's refreshing.