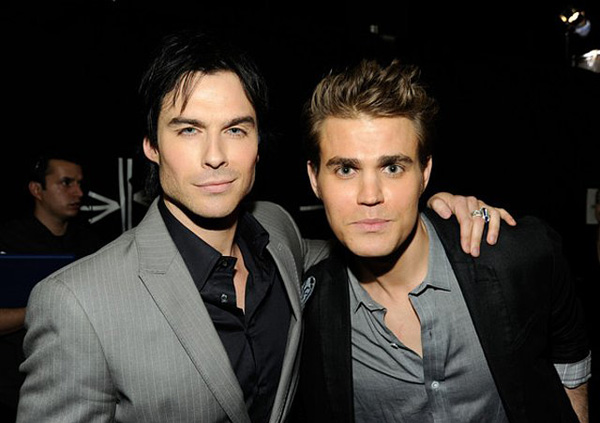 Tonight is the mid-season premiere of The Vampire Diaries and I'm so glad it's finally here. Click on the links below to check out interviews with Paul Wesley, Ian Somerhalder, Caroline Dries and Julie Plec talking about what we can expect tonight and for the rest of the season. Beware those pesky spoilers.
TV Fanatic: The Vampire Diaries Showrunner Teases Bonnie's Return, The Impending Merge & More
Yahoo TV: Paul Wesley Teases 'Vampire Diaries' Return: Get Out Your Tissues
Moviepilot: 14 Adorable Things That Prove Ian Somerhalder and Paul Wesley's Bromance is the Real Deal
THR: 'The Vampire Diaries': Paul Wesley on Directing, Steven R. McQueen's Exit
TV Line: Vampire Diaries Director Paul Wesley on Caroline Replacing Elena, Sheriff Forbes' Future and Losing Jeremy
E! Online: Why Julie Plec Is OK With Vampire Diaries Fans Calling Stefan and Caroline the New Pacey and Joey
TV Guide: Mega Buzz: Who's Ready for Another Damon-and-Elena Kiss on The Vampire Diaries?
EW: There's hope for Elena's memories: 'Vampire Diaries' producers share 8 tidbits of what's to come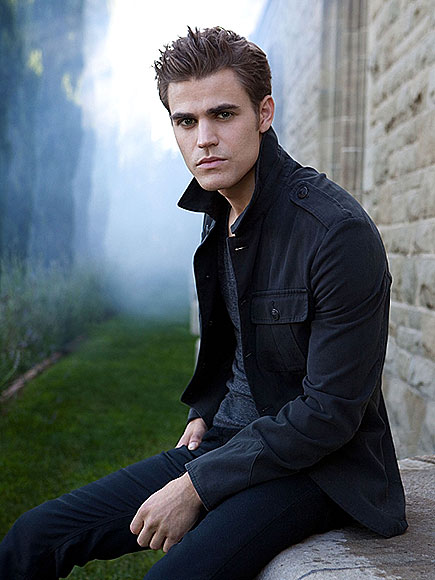 Got a couple interviews below for you with the amazing Paul Wesley. Last season Paul Wesley made his directorial debut on The Vampire Diaries with the episode titled Resident Evil. Tonight he has taken the directors seat again with the episode Woke Up With a Monster. Click on the links below to hear what he has to say about directing, Steroline and more. Beware of spoilers.
EW: 'Vampire Diaries' star Paul Wesley on why he cut a shirtless scene from the episode he directed
People: The Vampire Diaries: Paul Wesley Opens Up About the Future of Steroline
Buzzfeed asked 21 actors what advice they would give their TV characters for the approaching seasons. Nina Dobrev and Paul Wesley were included in the list and had the following to say:
Nina Dobrev (Elena Gilbert, The Vampire Diaries) "Run. Like the wind. Get the fuck out of that town."
Paul Wesley (Stefan Salvatore, The Vampire Diaries) "Take a step back, grow some balls, man up, go chop some wood, and be a lumberjack for a while."
Maybe the 2 of them can run off together and be lunmberjacks 😉
EW caught up with Nina Dobrev, Paul Wesley and Ian Somerhalder to discuss their character wish lists for season 6 of The Vampire Diaries. Check out what they had to say here.
Where do you want to see the characters heading to next season?
LA Confidential Magazine chatted with Paul Wesley bout directing his first Vampire Diaries episode, his love for animals and more.
See what he has to say here.
Below is an excerpt:
Do you have animals?
PW: I have a cat. It's funny because I've been doing so much work with The Humane Society and everyone [kept] asking me if I had a pet, and I would [say] no. But I was walking home one day at like 2 a.m., and it was freezing—it must have been 20 degrees outside. It was right before this big storm in Atlanta. This little baby, eight-month-old kitten, was nearly frozen under a car. So I took her home. Her name is Cat.
Tonight Paul Wesley makes his directorial debut on The Vampire Diaries. Hit the links below to check out a number of interviews with the actor talking about the episode and experience of directing.
Access Hollywood: 'The Vampire Diaries' Q&A: Paul Wesley On Directing
Give Me My Remote: THE VAMPIRE DIARIES: Paul Wesley on His Directorial Debut
EW: 'The Vampire Diaries': Director Paul Wesley explains why he nixed a shirtless moment in this week's episode — LISTEN!
TV Guide: The Vampire Diaries' Paul Wesley: Directorial Debut Addresses the Future of Stefan and Elena
Zap2it: 'The Vampire Diaries': Paul Wesley makes his directorial debut with 'nostalgic' episode filled with easter eggs
THR: 'Vampire Diaries': Paul Wesley on 'Daunting' Directorial Debut and Unexpected Hiccups