Flashback and Annie Scoop For The Vampire Diaries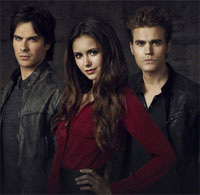 Got some juicy scoop for you on the flashback episode this week on The Vampire Diaries as well as info on witch Annie. Read the spoilers below for all the details.
Scoop via TV Line:
Do you have any scoop on either of these new Vampire Diaries and The Originals characters, Annie Nelson or Scarlett? –lilslim
I choose Door No. 1! A photography student whose life will be turned upside-down as she unravels the mystery of her true parentage, TVD's Annie also seems headed for romance – with a fella who perhaps shares a name with yours truly.
Spoilers via TV Guide:
Any more scoop on The Vampire Diaries? — Makayla
Get ready to see some old familiar faces when two characters (and no, we're not talking about Bonnie and Damon) return to the show. As for this week's big '90s flashback, not only will you get to see Damon flirting with a young (and long-haired!) Liz Forbes, but you can also expect a major hint about sketchy newcomer Sarah's past. (It could even link her to the Salvatores.)