Elena Pursues the Medical Field in Season 6 of The Vampire Diaries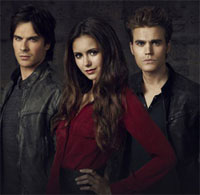 Looks like when season 6 of The Vampire Diaries comes back Elena is gonna be focusing on her schoolwork in an attempt to get over Damon. Julie Plec gave TV Line a little input into Elena's new medical path.
What coping mechanisms will Elena from The Vampire Diaries be using to deal with the fact she lost Damon (seemingly) forever? –Ana
It sounds like she'll be burying her nose in the books, of the medical stripe. As indicated by a flurry of recent castings – and likely a pure coincidence now that TVD has Grey's Anatomy as a time slot rival — "When we come back, we'll see that Elena is actively pursuing a degree in pre-med," show boss Julie Plec told us. "She's a smart girl, and Elena's father was a doctor, so she's trying to figure out how to help people and save people, just as her family did." And merely as an added bonus, "We'll meet some hot young pre-med guys and sexy doctors" as she does so.