Spoilers, Spoilers Spoilers!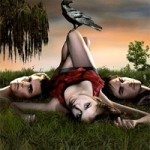 Spoiler Via TV Guide:
What's the scoop on The Vampire Diaries? — Grace
NATALIE: We'll flash-back to the speakeasies of Prohibition-era Chicago early on in Season 3, where we'll meet a vampire from Stefan's past who will head to present-day Mystic Falls in hopes of rekindling an old flame. If a Facebook relationship status existed that said "Currently Stalking Someone," that's what hers would say… but about Caroline!
Spoiler via TV Line:

Question: Can you share anything else about the Vampire Diaries premiere? What does Damon get Elena for her birthday? —Will
Ausiello: Um, nothing. This is Vampire Diaries. Don't count on there being any cake and goody bags, if you catch my drift. Besides, Elena isn't really in the partying mood. She's got more important things on her mind.