Spoilers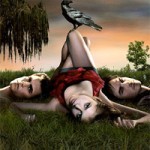 Spoiler via E! Online:

McKenna: The Vampire Diaries!
Imagine Velma Kelly from the musical Chicago ("he had it coming!") as a vampire, and you'll have a pretty good picture of new character Becky. She's a key figure from Stefan's past, and she's enrolled at Mystic Falls High to put herself in his path, reclaim his love and eliminate her rivals. She's going to be particularly mean to poor Caroline, but we're hoping Caroline surprises us with some newly discovered reserves of strength and shows Becky who's boss.