Kayla Interview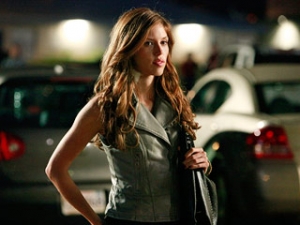 Kayla Ewell talked with EW about the alleged flashing incident involving her and some of her cast mates while doing a photo shoot with Tyler Shields. To read all about the incident, which I did not post about earlier, go to the EW to get the details and hear what Kayla had to say.
Here is an excerpt from the article:

But, according to Ewell, the incident was more innocent than it was made out to be. The actress says while on a road trip with her castmates (the show shoots nearby), the group decided to stop to take pictures on a bridge. That's when they were rushed by Monroe County cops. "They were like, 'We're getting calls that people are flashing,'" Ewell says. "And we're like, 'Whoa, whoa, whoa. The only thing that's flashing is our camera.'" The actress says that after showing police their photos, the group was asked to follow officials to the police station, where they were ticketed for loitering on a public walkway.