Synopsis For Episode 7.02 of The Vampire Diaries: Never Let Me Go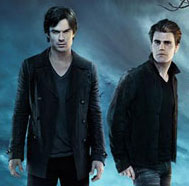 The CW has released a synopsis for episode 7.02 of The Vampire Diaries titled, Never Let Me Go. The episode is scheduled to air on October 15th. The Salvatore family is really going to have to work on their trust issues it sounds like.
ONE STEP AHEAD – When an impulsive decision by Damon (Ian Somerhalder) threatens to unravel a carefully negotiated deal between Stefan (Paul Wesley) and Lily (guest star Annie Wersching), he has no choice but to make amends with his mother before things spiral further out of control. However, Lily remains one step ahead and carries out a harsh plan that hits Damon where it hurts most. Elsewhere, after returning to Whitmore Collage, Alaric (Matt Davis) turns to Bonnie (Kat Graham) for help with a mysterious and potentially dangerous artifact he has obtained, while Matt (Zach Roerig) is forced into making a risky life or death decision. Meanwhile, Caroline (Candice King), who finds herself a pawn in Lily and the heretics' plan for retribution, uncovers a shocking detail about Stefan's past.